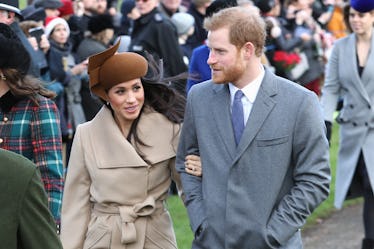 4 Meghan Markle Quotes About Prince Harry That Prove They Have A Fairytale Romance
Chris Jackson/Getty Images Entertainment/Getty Images
In case you didn't notice, Meghan Markle and Prince Harry are having a serious moment right now. They're newly engaged, and every photo of them shows the two of them looking so in love that it almost makes you want to vomit, but in like, the best way possible. And if you think it's just an act that they're putting on for the media, think again. These two are the real deal, and Meghan Markle's quotes about Prince Harry prove that this couple is in it for the long haul.
Unless you've been living under a rock, you know that Prince Harry and Meghan Markle got engaged, and the Royal Family released a statement on Nov. 27 that the couple has their blessing:
His Royal Highness The Prince of Wales is delighted to announce the engagement of Prince Harry to Ms. Meghan Markle. The wedding will take place in Spring 2018. Further details about the wedding day will be announced in due course. His Royal Highness and Ms. Markle became engaged in London earlier this month. Prince Harry has informed Her Majesty The Queen and other close members of his family. Prince Harry has also sought and received the blessing of Ms. Markle's parents. The couple will live in Nottingham Cottage at Kensington Palace.
The world was so here for it that even celebrities were doing a happy dance regarding the good news:
And now that we know the wedding will be taking place in May of 2018, we can officially break out our fascinator hats and tea sets and prepare for what will be the wedding of the year.
So, is there any better way to celebrate this couple's newly-engaged bliss than to share some of the adorable things that Meghan Markle has said about Prince Harry? NOPE!
After reading what she has to say about her fiancé, you'll be feeling like a schoolgirl who just got asked to prom by her crush:
Cloud nine, people. Cloud nine.
1. On her relationship with Prince Harry:
In an interview with Vanity Fair, Meghan Markle was surprisingly candid about her relationship with Prince Harry. She said,
We're two people who are really happy and in love. We were very quietly dating for about six months before it became news, and I was working during that whole time, and the only thing that changed was people's perception. Nothing about me changed. I'm still the same person that I am, and I've never defined myself by my relationship.
Markle went on to say that she hopes "people will understand that this is our time. This is for us. It's part of what makes it so special, that it's just ours. But we're happy. Personally, I love a great love story."
Is there anything as pure as Meghan Markle talking about her relationship with Prince Harry? No. No there is not.
2. Her interview with BBC talking about Prince Harry's proposal:
There's love, and then there's TRUE love, and the difference is that the latter involves roasting a chicken while getting down on bended knee to ask the love of your life to marry you. Can you guess which category Prince Harry and Meghan Markle fall under?
During the couple's first interview after getting engaged with BBC, Markle admitted that she could barely let Prince Harry finish his proposal before saying that she'd marry him:
Just a cozy night. What were we doing? We were trying to roast a chicken. It was just an amazing surprise. It was so sweet and natural and very romantic. He got down on one knee . . . As a matter of fact, I could barely let him finish proposing, like, 'Can I say yes now?!'
If a roast chicken and an engagement ring isn't the ultimate #proposalgoals, I don't know what is.
3. On her appreciation for Prince Harry's relationship with Queen Elizabeth:
Meeting the family can be hard when you're in a relationship. Meeting the family when your significant other is royalty is probably another beast entirely. But Meghan Markle showed the world that she appreciates Prince Harry's bond with his family and, most importantly, his grandmother (who is the Queen of England, NBD). In an interview with BBC, Markle said,
It's incredible. I think... to be able to meet her through his lens, not just through his honor and respect for her as the monarch, but the love that he has for her as his grandmother, all of those layers have been so important for me so that when I met her I had such a deep understanding, and of course incredible respect for being able to have that time with her.
Well, damn. The fact that she's so eloquent with her words when it comes to speaking about the royal family shows she's going to fit in juuuust fine with the Windsors.
4. On how "special" her engagement ring is to her:
The idea of using a diamond from your late mother's jewelry collection in an engagement ring is incredibly touching, and that's exactly what Prince Harry did, so cue the waterworks. In an interview with BBC, Prince Harry said that the two side stones on Markle's engagement ring are from Princess Diana's collection "to make sure that she's with us on this crazy journey together."
I'm not crying, you're crying.
And Markle didn't hesitate to express her gratitude. She said,
I think everything about Harry's thoughtfulness and the inclusion of [Princess Diana's stones] and obviously not being able to meet his mom, it's so important to me to know that she's a part of this with us ... It's incredibly special to be able to have this [ring].
If you weren't absolutely positive that these two love birds are living a real-life fairytale romance before reading these quotes, I can't imagine you don't feel differently after.
Meghan Markle, you may have stolen Prince Harry's heart, but believe me when I tell you that you stole everyone else's, too.