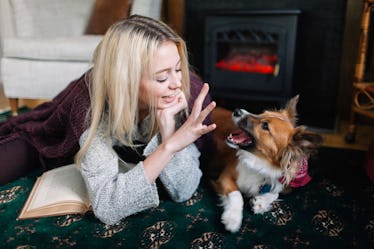 No Matter How Much Your Dog May Beg For These 4 Holiday Foods, Vets Say Don't Give In
My dog Hank thinks he's a human. Besides hilarious habits like sitting like a person on the couch, he also somehow feels entitled to bites of my cashew milk ice cream or sips of my morning cup of coffee. And once December rolls around, no matter how many times I tell him that my plate is definitely not suitable for a pup like him, he still tries his best to sneak a nibble of some of the holiday foods that dogs shouldn't eat. As temping as it is when your own pup wants to eat with you and gives you that sad-eyes look, though, keep in mind that some of these foods can really do serious damage on your little fur baby.
No matter how much you love a brie and grapes appetizer platter, many of the most delicious holiday foods just aren't safe for your pup to celebrate with, so hold your ground and opt for some recipes that are puppy-approved instead.
"If your dog accidentally eats a food that is harmful to them, you should consult your veterinarian immediately," Dr. Jennifer Freeman, DVM, a PetSmart resident veterinarian, tells Elite Daily over email. "They will be able to advise on next steps and emergency care if necessary." It's possible that your vet will ask you to induce your pet to vomit, she adds, so keep in mind that that may be a possibility.
While this list can help guide you, one easy way to be certain that you aren't accidentally exposing your little guy to something that might make him sick is to make him his own little plate of standard dog treats while you and your loved ones are sitting down to feast. That way, even though he's missing out on the table scraps, he can feel like he's part of the fun without any potential tummy aches.