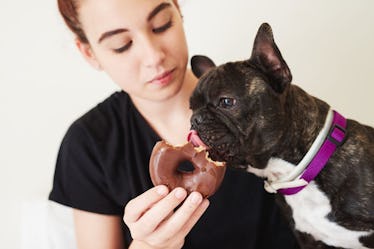 A Vet Reveals The 6 Thanksgiving Foods You Definitely Shouldn't Sneak To Your Pup
There's nothing quite as heart-wrenching as the sad little eyes of your pup as soon as she spots you eating food. My dog, Hank, can immediately sense whenever I'm sitting down to eat, and will instantly be at my side, resting his face on my knee. While I sometimes give in and slip him a slice of cheese or a nibble of raw carrot, I do worry about what some of these table scraps might do to his sensitive stomach. If you're in the same boat, it's worth knowing which Thanksgiving foods can make a dog sick, since the holiday is now right around the corner.
According to Dr. Daniel Edge, DVM, MBA, director of veterinary specialty operations for the global animal health company Zoetis, you should be extra cautious about any table scraps your dog is tasting during Thanksgiving. Overall, says Dr. Edge, it's best to keep the feast on top of the table for the humans in your family to enjoy.
And if you happen to catch your little cousin passing your dog some leftovers under the table, then it's probably a good idea to get your pup checked out, just to be safe, Dr. Edge tells Elite Daily in an email. "If you believe your pet has eaten something it shouldn't have, call your veterinarian or local veterinary emergency clinic immediately," he says.
Keep an eye out for these six foods during your Thanksgiving festivities, and make sure your pup doesn't steal 'em off the table.