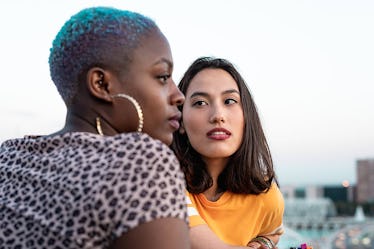 4 Dating Behaviors That Might Mean Someone's Healing From Heartbreak
Unfortunately, there's still no magic pill that makes the process of getting over heartbreak any easier. But, because it is easier than ever to jump into a new relationship, it's helpful to be able to identify the dating behaviors that mean someone is healing from heartbreak —because the last thing anyone wants is to fall for someone who's emotionally unavailable. Now, don't get it twisted: Just because someone is fresh out of a relationship, doesn't mean they're not ready to move on. But if they aren't, it's helpful to know what to look out for.
According to Elle Huerta, CEO and founder of the heartbreak recovery app Mend, there's no "right" amount of time for someone to wait before starting to date again. It truly depends on the individual. Nevertheless, "It's helpful to have time after a breakup to redefine a sense of self, outside of a relationship, and that timeframe varies for everyone," Huerta previously told Elite Daily. "There's no magic formula for knowing when [someone is fully] ready."
If you've recently connected with someone new, but you've noticed the following signs they're still reflecting on an ex, it might be helpful to have a conversation. Although there's nothing wrong with dating someone who's fresh off a breakup, they might not be ready for the same things you are if they're still healing from past relationship wounds. That's why it's important to set set realistic expectations, and be open and honest about what you both want.