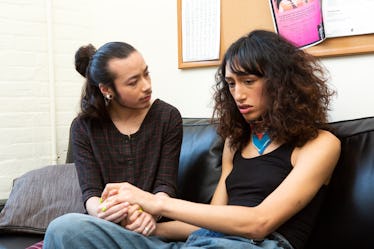 20 People Reveal Their Best Breakup Advice For Your Mid 20s & They're SO Right
There are few reassurances about breakups that can actually feel good to hear (and don't include the lovely phrase "give it time"), but one such saying is that you're truly not alone in this. To add some sense of proof to the fact that a lot of other women have had similar, gut-wrenching heartaches, I asked a bunch of 20-somethings to give me their best breakup advice for your mid 20s, and they were all so wise.
Breakups can really, really suck. Figuring out how to soothe that punched-directly-in-the-middle-of-your-gut feeling of heartbreak can be super tough. In fact, breakups literally affect your brain chemistry. "Heartbreak actually affects your dopamine levels, which is why you might, feel anxious, stressed out, and crave to see seeing the person," says sex therapist Carolanne Marcantonio tells Elite Daily. "The craving isn't a magical sign you should be together; it's just your dopamine levels adjusting. Knowing this can save you a lot of heartache. It can arm you with the information you need so you don't text the person because the feeling can be very compelling."
So, the next time you feel like you're experiencing feelings that stop you in your tracks, remember that you're having a normal reaction and not a permanent experience.
For some extra reassurance, check out the following advice from some wise AF 20-somethings.