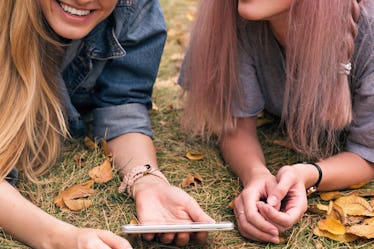 Discuss These 4 Dating App Ground Rules With Your Friends ASAP, Because It's Almost Cuffing Season
When it comes to dating, "rules" are a somewhat controversial notion. While some believe that setting — and sticking to — a certain code of conduct can make you more likely to find romantic happiness, others believe that rules simply don't apply when it comes to love, because love is not a game. However, we are now in the age of digital dating platforms, which present some unique opportunities and challenges. In fact, setting some dating app ground rules may very well prove helpful in terms of getting what you want out of them. Instead of blindly swiping left and right, you can start making smarter decisions that bring you one step closer to your potential boo.
Dating apps open up a whole new world of potential partners — they provide a way to meet people right outside your door, who you otherwise might not cross paths with if you left it up to chance. Not only that, but unlike meeting people IRL, you get the benefit of assessing whether you have anything in common with your match before even striking up a conversation, as you're privy to information on their profile. That said, there are can be certain difficulties to digital dating. Evaluating your chemistry and compatibility as well as the other person's character can be challenging when you can't take body language and tone of voice into account through your communication. Additionally, just as in real life, people can be on dating apps for a range of reasons, and figuring out what your matches are looking for isn't always easy.
Pricilla Martinez, an online life coach at Blush, says setting ground rules revolving around safety is a must. "Before a date, it may be a good idea to share a screenshot of your date's profile page with a friend," she says. "If you can, also send them the license plate and phone number for your date."
By establishing some pre-semester ground rules for your swiping needs, you can start making smarter decisions that bring you one step closer to your potential boo. And what better way to set said guidelines than to make a pact with your BFFs? You'll probably be more likely to stick by your dating app rules if you establish them together. Here are a few tips that could prove helpful in ensuring more successful swiping.