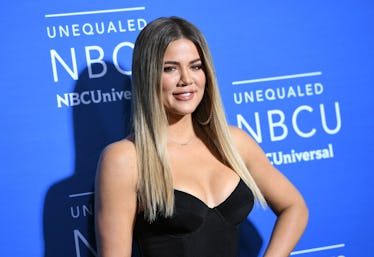 4 Clues Khloé Kardashian Is Not Pregnant, In Case You Believe The Rumors
ANGELA WEISS/AFP/Getty Images
With all the Jenner and Kardashian baby buzz floating lately, fans are looking for a little more clarification about who is and isn't pregnant. Fans have been on the hunt for the official yay or nay, so I rounded up all the clues Khloé Kardashian is not pregnant. You know, to make it easier for everyone keeping track at home.
UPDATE: On Dec. 20, Khloé Kardashian confirmed that she is expecting a baby with Tristan Thompson in an Instagram post.
EARLIER: Here's where we're at so far: Reports that Kylie Jenner is pregnant kicked things off on Sept. 22, followed by reports days later that Khloé is pregnant. Kim Kardashian finally seemed to confirm the rumors that she and Kanye West are expecting another child via a surrogate, sharing the news in a Keeping Up With the Kardashians promo. And Kourtney Kardashian was also rumored to be pregnant, which seemed insane given the other Kardashian/Jenner baby buzz, but Kourtney shot that all down with a couple of tweets blasting Grazia magazine for misquoting her.
Though nothing has been confirmed or denied on the Khloé baby front, more information seems to pop up almost daily and just makes everything muddier. It's a lot and I think we're all just trying to keep up, so to speak, so here are some of the clues that fans have noticed that point to her not being pregnant:
1. Khloé Hasn't Confirmed It
This is the biggie and it's something everyone knows, but obviously it's worth a mention because until Khloé herself makes an official announcement, no one knows if she truly is pregnant or not. Which leads me to the second point...
2. Kris Jenner Hasn't Confirmed It
Guys, nothing in that family happens without momager Kris managing their message. So far, Kris has stayed mum about everything related to any Khloé baby buzz. You know if she had some baby beans to spill about Khloé, she would have shouted it from the rooftops by now. In a recent interview with ET, Kris talked about Khloé and NBA star Tristan Thompson, noting that she's "over the moon" about their relationship:
We love Tristan so much, and she's so happy, and she's been through so much. Just seeing her be able to do something so creative with [her denim line] Good American — that's her passion. On top of it, to be in such a great place in her personal life is amazing. She's really happy.
3. Khloé Is Joking About It
I don't know about you, but Khloé's appearance in Kylie's latest cosmetics video — where they're joking about babies — had me reading between the lines. The sisters talk about their "In Love With The KoKo" lip kit collection, which they call their "babies." Khloe excitedly says, "It's our baby together! We have eight!," while Kylie responds, "I know, we have so many babies. Who knew?" Then they share a giggle. I feel like there's a message there about all the baby rumors and Khloé's giving a wink-wink, joke vibe about how she totally isn't preggers.
4. Khloé Shot Down Fans In a Recent Instagram Post
Earlier this month, Khloé shared pics on Instagram of herself posing in pieces from her latest Good American fashion line. Fans were convinced they saw a baby bump, leaving comments about how she was clearly showing. Nope. Khloé jumped into the comments and shut it all down, explaining that it was simply the style of the shirt she was wearing, writing: "This is a peplum shirt. It flares out at the bottom. It's just the way the shirt is designed. In some of the next pictures coming up from the SAME shoot, I'm in a crop top. Showing a lot of skin..."
Plus, in a recent pic of her and Tristan on Instagram, one fan noted: "there's no way she's pregnant, look!"
All of these signs seem to point to Khloé not being pregnant, but of course, it all comes down to her official word on the matter.
Check out the entire Gen Why series and other videos on Facebook and the Bustle app across Apple TV, Roku, and Amazon Fire TV.