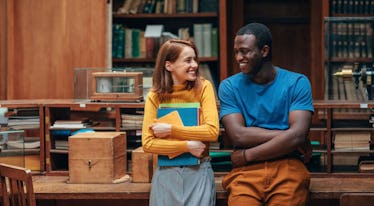 4 Actually Helpful Tips For Dating In College That'll Up Your Game
Picture a young woman on her way to college, excited and nervous for what's to come. She was never allowed to date in high school (not that there was anyone worth dating there), so she readies herself for the world of dating possibilities at her new campus. Spoiler alert: The young woman was me, and I sucked at dating in college. I was completely overwhelmed at all the potential baes, but perhaps if I had some helpful tips for dating in college, I might've handled it better. Hopefully, you can fare better than I did with the help of these expert-approved tips.
Dating in college can feel like an entirely new playing field. There are literally thousands of single cuties out there, and no matter what you're looking for out of a relationship, you're bound to have some fun meeting new people. On top of that, when you first arrive to college, you'll probably feel like an actual adult for the first time in your life. You get to make your own decisions and choices about so much that it makes sense dating would be another new territory to feel overwhelmed by.
"College dating is different due to time!" professional dating coach Nina Rubin tells Elite Daily. "Many college students live in dorms or apartments and get to make choices with their time. Their parents are not looking at their every move, so dating in college offers more independence and freedom."
So, how can you make the most of all that newfound freedom when it comes to dating? According to Rubin, it's fairly simple.