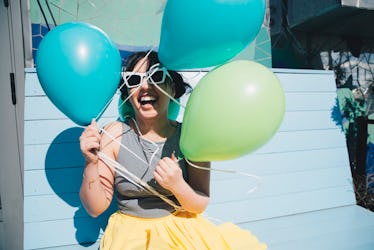 38 Leprechaun Puns For Instagram That'll Bring On Those St. Patrick's Day Feels
It's hard to avoid seeing leprechauns around St. Patrick's Day. Those little guys in green are the mascots of the holiday, so they're basically everywhere. Not only do they capture the spirit of the season, but they're up for any shenanigans planned. If that sounds like you and your friends, you may want to consider using leprechaun puns for Instagram to caption all of your St. Patrick's Day pics.
Puns are just like leprechauns. They're fun, witty, and sometimes cause you to LOL harder than you expected. They're the perfect companions for those pics of you sipping on some green beer (if you're 21 and up) at home with your roomies. Since St. Patrick's Day is looking a little different this year, due to the ongoing coronavirus pandemic, you're already busy trying to come up with some virtual St. Patrick's Day party plans. The Centers for Disease Control and Prevention (CDC) recommends you celebrate by gathering virtually, so playing some St. Patrick's Day games while eating Irish food is a great way to go. But, there are so many ways you can party — or paddy — with your friends.
Whatever you've got planned, you can use any of these 38 leprechaun puns for captions on those pictures you deem are Insta-worthy. It takes all the work away from you, because all you'll have to do is take your picture, pair it with a clever leprechaun pun, and go about your merry way. Who knows, you may magically arrive at a golden Instagram post at the end of the rainbow that'll get you all the likes. That would be the dream.
1. "Have a leprechaun do attitude."
2. "You leprechaun do it."
3. "Keep calm and leprechaun."
4. "Dublin over in laughter."
5. "I'm so lepre-gone right now."
6. "Felt cute, might paddy later."
7. "Irish you were here."
8. "Never iron a four-leaf clover, because you don't want to press your luck."
9. "I lepre-can't even right now."
10. "St. Patrick's Day puns don't just shame you, they Seamus all."
11. "Irish I had pizza."
12. "It ain't over 'til it's clover."
13. "Shake your shamrocks."
14. "Having a shamrockin' good time."
15. "Here today, leprechaun tomorrow."
16. "You're my Lucky Charms."
17. "I run. I drink. Irish."
18. "You lepre-can have it all."
19. "If it ain't brogue, don't fix it."
20. "I'm so lucky to have you."
21. "I love shamrock 'n' roll!"
22. "Never borrow money from a leprechaun — they're always a little short."
23. "Watch out for sham rocks when looking for gold."
24. "Irish you a happy St. Patrick's Day!"
25. "A good friend is like a four-leaf clover — hard to find and lucky to have."
26. "Tied up in a nice rainbow."
27. "I tried looking for gold, but it didn't pan out."
28. "Is it gold in here? Or is it just me?"
29. "With you, we're Dublin the fun."
30. "Zero lucks given."
31. "Irish I was paddy-ing with you."
32. "You shamrock my world."
33. "I'm so lucky you found me."
34. "Lepre-can you pass me a beer?"
35. "We've made a jig mistake."
36. "Don't you a-green?"
37. "Sitting out on the Paddy O'."
38."We're up all night to get lucky." — Daft Punk, "Get Lucky"
This article was originally published on