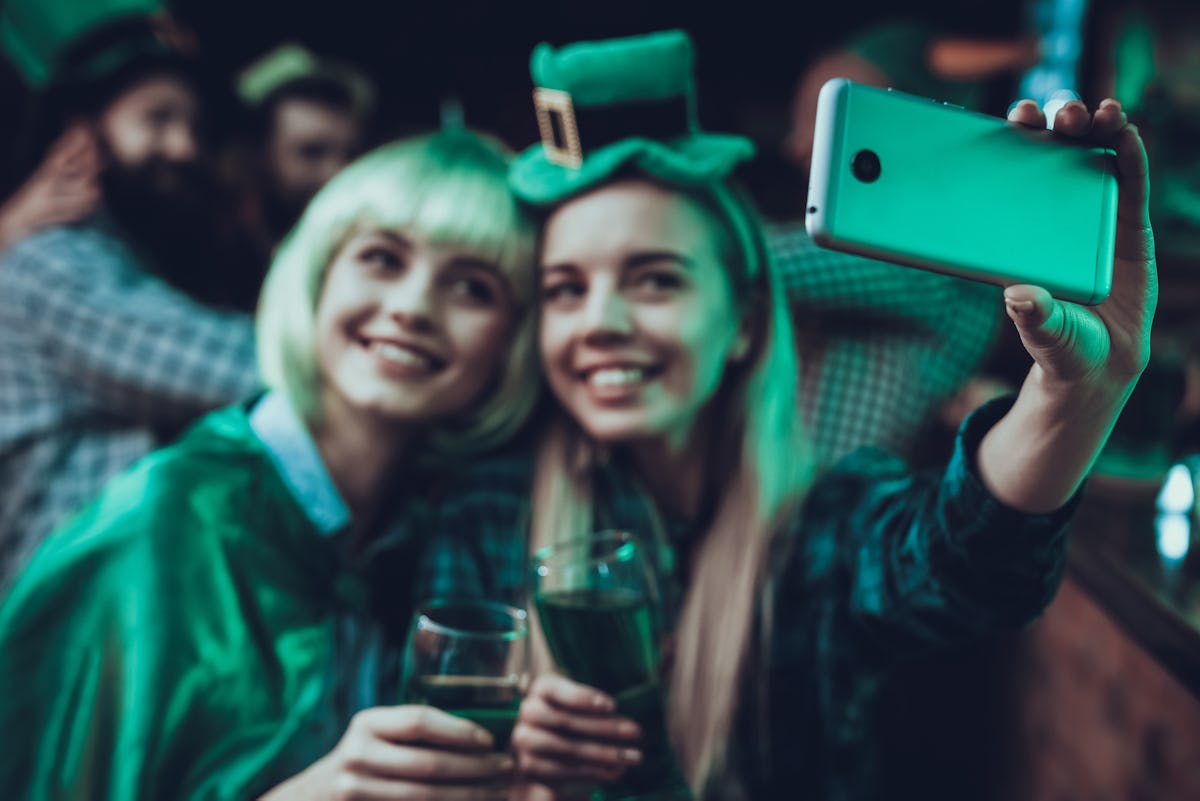 44 St. Patrick's Day Puns For All Of Your Shenanigans With The Crew
Shutterstock
From the decor to the beer, it's the greenest day of the year. Need a little hint? You'll be wearing green from head to toe and hoping for lots of luck to come your way on this given day. That's right — I'm talking about St. Patrick's Day. No matter how you decide to celebrate the holiday this year, let me tell you — you're going to need some awesome St. Patrick's Day puns for this incredibly green holiday.
If you're in college, you know that St. Patrick's day is one of the bigger holidays for the crowd that's 21 and up. You'll be having a blast celebrating with your friends and maybe family, and you'll be snapping more photos than you can even think of right now. You're going to need some quality captions on the back-burner for all of the pictures you're going pose for with your main crew. Get your green glasses, beads, and T-shirt ready — because it's time to celebrate.
In between enjoying green drinks and treats, checking out a local parade, and decorating for an epic St. Patrick's day party, don't forget to pose every now and then for snaps and candids with your people. Some of these 44 puns may be the perfect touch of humor for all of your St. Patrick's Day shenanigans.
1. "Shake your shamrocks."
2. "Wishin' you a pot o' gold, and all the joy your heart can hold." — Irish Welcome
3. "The leprechauns made me do it."
4. "You're my lucky charm."
5. "Warning: I may be prone to shenanigans and malarky."
6. "Get your Irish on."
7. "Let the shenanigans begin!"
8. "A good friend is like a four leaf clover — hard to find, lucky to have."
9. "Shamrocked."
10. "Take a pitcher. It'll last longer."
11. "A little thing called luck."
12. "Ready to shamrock and roll."
13. "Irish you a happy St. Patrick's day!"
14. "Irish I had another glass of wine."
15. "You shamrock my world."
16. "One lucky day."
17. "Let's get shamrocked."
18. "A wee bit Irish."
19. "Keep calm and dance with the leprechauns."
20. "That's a bunch of blarney!"
21. "Don't worry, beer happy."
22. "I kissed a leprechaun and I liked it."
23. "World's tallest leprechaun."
24. "Lucky me, I have you."
25. "Pinch patrol."
26. "It's the most wonderful time to drink beer."
27. "Lucky like a four-leaf clover."
28. "I'm the luckiest."
29. "Lucky to be blessed."
30. "Shamrocks and shenanigans for all!"
31. "Blessed and shamrock-obsessed."
32. "Luck as lucky can be."
33. "May your joys be as deep as the oceans, your troubles as light as its foam." — Irish Blessing
34. "Cutest clover in the patch."
35. "Who needs luck? I have charm."
36. "Little miss lucky charm."
37. "May the luck be with you."
38. "Pinch me and I'll punch you."
39. "Keep calm and stay lucky."
40. "A wee bit o' wine is fine."
41. "St. Patrick's Day always shamrocks my world."
42. "Irish I had another beer."
43. "I'm not Irish, but kiss me anyway."
44."Wish you were beer."
This article was originally published on