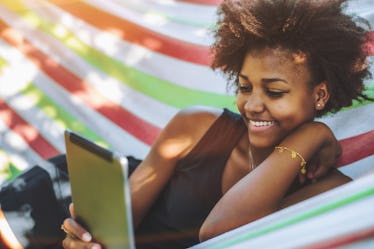 38 Last-Minute Labor Day Captions That Show What A Blast You're Having
Shutterstock
Being lazy is OK in the summertime. You're simply preparing yourself for the chiller seasons to come when you'll spend more time watching movies in bed and snuggling with your cat, rather than hanging out outdoors. Labor Day is typically when this transition begins, so here are some last-minute Labor Day captions for your backyard hangouts or moments when you're casually reapplying sunscreen at the beach.
Saying goodbye to summer is always a bittersweet moment. But, you're excited to put on your oversized sweaters, light up your cinnamon-scented candles, and cook large batches of butternut squash soup. Sometimes, you get melancholy about parting with those long days of sunshine and your new "bike by the boardwalk at sunset" routine. Your hands may automatically reach for your tank tops and sneakers in the morning, but you know it's time to part ways. (Or, maybe not? Don't rush me, please.)
Your friends are truly not surprised that you're still deciding if you want to sip mocktails in your backyard, set up your own movie theater, or grab ice cream at the local parlor on Labor Day. Taking the start of the season slow is your jam, but that never stops you from having a blast. Lucky for you, your Instagram captions have already been covered, so you can focus on making the most of transitioning to a new season.
1. "Partying like a lob-star in the backyard."
2. "The tans will fade, but the memories will last forever."
3. "Think a little less, live a little more."
4. "Summer is a state of mind."
5. "Paradise found here in my hammock."
6. "Watch more sunsets than Netflix."
7. "Those lazy, hazy days of summer."
8. "If you're not barefoot, then you're overdressed."
9. "Sea you on the next wave."
10. "Tangled hair, don't care.
11. "Live like a local."
12. "All my troubles wash away in the water."
13. "Escape the ordinary."
14. "This is where the fun stuff happens."
15. "We are the night."
16. "Bloom, baby, bloom."
17. "Rule number one is that you gotta have fun."
18. "Always take the scenic route."
19. "Go where you feel most alive."
20. "Be more stoked."
21. "If anyone needs me, I'll be in my kiddie pool."
22. "This is my happy place."
23. "Get your grill on."
24. "Weekend, you're my favorite."
25. "Have fun, even if it's not the same kind of fun everyone else is having." — C.S. Lewis
26. "It's been real, summer."
27. "I'm really great at weekending."
28. "Heck yes."
29. "Work a little less, play a little more."
30. "Sweet on this Monday situation."
31. "Messy bun, tie-dye sweats kind of plan."
32. "And all at once, summer collapsed into fall." — Oscar Wilde
33. "Make your soul happy, always."
34. "Do more things that make you forget to check your phone."
35. "Long weekends should come with a pause button."
36. "That long weekend love."
37. "Do nothing and chill."
38. "Smile and enjoy the weekend."
Have you found a caption that'll fit your feed? You're not going to fuss about it too much. But, you still want to share those last moments of summer with your loyal followers. They've been living vicariously through your backyard excursions and hammock hangouts all season long. This Labor Day weekend will be no different.
This article was originally published on