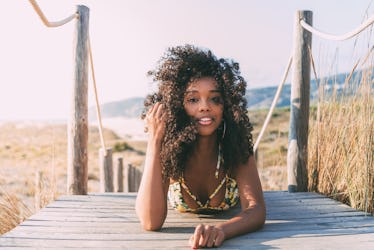 Use These Labor Day Weekend Captions When You're Having Fun In The Sun
Shutterstock
From one year to the next, Labor Day weekend remains the unofficial end of the summer season. It's the last few days before everyone gets back into college mode and hits the books instead of the beach, and when my fashionable besties tuck their white pants into the back of their closets and declare that it's "sweater weather." Spoiler alert: It's still above 70 degrees and you need some clever Labor Day weekend captions before your last hurrah to the sun, sand, and surf.
Despite the fact that it's almost autumn, you're still having fun in the sun. You're texting your group chats with plans for hosting virtual picnics, having campfires with your siblings (complete with a bunch of s'mores), and laying out in a hammock during your work breaks. You've probably bought a pair of roller skates or a skateboard in the past few months, knowing that you'll zoom around your neighborhood again next year. Some of your besties are more in #fallmode right now, and they're looking forward to spending the upcoming weekends wandering around the farmers market or making butternut squash soup at home.
You're slowly convincing them, though, that Labor Day weekend is truly meant for doing summer-related activities. And, inevitably, they're beginning to notice that the kiddie pools, ice cream sandwiches in their freezer, and tasty mocktail recipes are calling their names. Soon enough, everyone will be on board, and you'll be rolling out your hose so you can stick your feet in a tiny pool in your backyard and catch up with your BFFs over Zoom. Until then, prep your social media posts with these 25 clever captions for Labor Day weekend.
1. "Summer lovin'." — Grease, "Summer Nights"
2. "It's Labor Day weekend, baby."
3. "Good times and tan lines."
4. "I swear it was the beginning of summer like five minutes ago."
5. "Dear, Labor Day weekend. You're my favorite."
6. "Doing these summer nights right."
7. "Goodbye, summer. We had something special."
8. "It's beginning to look a lot like the beach."
9. "Here for the food and my friends."
10. "Having lots of fun in the sun."
11. "If long weekends had a face, I'd kiss it."
12. "Relax. Refresh. Repeat."
13. "P.S., don't forget to have a good time this weekend."
14. "Sunshine and good feelings."
15. "Feelin' just peachy when I'm with you."
16. "Let's be honest, beach days are the best days."
17. "For the rest of the year, assume I'm mentally on the beach."
18. "Staying in on Labor Day weekend is the new going out."
19. "Let the good times roll." — The Cars, "Good Times Roll"
20. "Do more things that make you forget summer is over."
21. "Ew, who invited autumn to the Labor Day weekend party?"
22. "Let the chill weekend begin."
23. "Always make time for the things you love, like long weekends."
24. "Hashtag Labor Day weekend."
25. "But first, let's chill on Labor Day."
Did you find a caption or two that'll potentially work for your Labor Day weekend posts? If so, get back to convincing your besties that it's still summer and not fall. It might be a little difficult at first, because their hearts and minds are so set on candy corn, dark denim, and putting away their outdoor movie setups and kiddie pools. But you can get them in the spirit of summer, and get them ready for a weekend of virtual celebrations and fun in the sun.
This article was originally published on