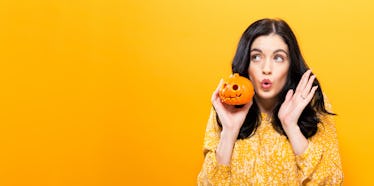 38 Last-Minute Captions For Halloween That Creep It Real When You're Lazy AF
Halloween is almost here. If you're a procrastinator like me, you've most likely been going through your closet trying to find a last-minute costume while also dodging what exactly you'll be doing on Halloween night. You have no idea. That's because you didn't realize the date was creeping up on you so quickly. If you live your life doing things at the very last second, you understand the need for things to be made easy and accessible. That's why having some last-minute captions for Halloween at your fingertips is so essential.
You might be feeling lazy AF and proud of it, so when things are made easy for you, you feel #blessed beyond compare. If you don't have time to think of something clever or cute for your Halloween posts, we have you covered. When you need to get in a last-minute Instagram picture before the clock strikes midnight, here are 38 fun Halloween Instagram captions you can use. They're generic so you can use them for pretty much any Halloween pic you snap. The day is about wearing a costume, so give the illusion that you've got it all together by having an awesome, Instagram-worthy post, and no one will ever know you totally cheated.
1. "Witch better have my candy." — Unknown
2. "Trick or treat yo'self." — Unknown
3. "If you've got it, haunt it." — Rose Pressey
4. "Creep it real." — Unknown
5. "I'm here for the boos." — Unknown
6. "Boo Felicia." — Unknown
7. "Darkness falls across the land. The midnight hour is close at hand. Creatures crawl in search of blood to terrorize y'all's neighborhood." — Michael Jackson, "Thriller"
8. "Eat, drink, and be scary." — Unknown
9. "Don't be a basic witch." — Unknown
10. "More boos, please." — Unknown
11. #SquadGhouls" — Unknown
12. "Boo-tiful." — Unknown
13. "Fangtastic." — Unknown
14. "'Cause this is thriller, thriller night. And no one's gonna save you from the beast about to strike." — Michael Jackson, "Thriller"
15. "Monster-ific." — Unknown
16. "Spookilicious." — Unknown
17. "Too cute to spook." — Sofia the First
18. "Spooktacular." — Unknown
19. "It's just a bunch of hocus pocus." — Hocus Pocus
20. "Witch way to the candy?" — Unknown
21. "When witches go riding, and black cats are seen, the moon laughs and whispers, 'tis near Halloween." — Unknown
22. "If the broom fits." — Unknown
23. "Pumpkin spice and everything nice." — Unknown
24. "Keep calm and carry a wand." — Unknown
25. "Wicked awesome." — Unknown
26. "Me and my ghoulfriends." — Unknown
27. "I put a spell on you and now you're mine." — Jay Hawkins, "I Put A Spell On You"
28. "By the pricking of my thumbs, something wicked this way comes." — William Shakespeare
29. "Basic witch." — Unknown
30. "What's your favorite scary movie?" — Scream
31. "Ghosts and goblins, spooks galore, scary witches at your door. Jack-o-lanterns smiling bright wishing you a haunting night. Happy Halloween." — Unknown
32. "Bow down witches." — Unknown
33. "I'm so glad I live in a world where there are Octobers." — Anne of Green Gables
34. "Fall so hard motherpumpkins wanna spice me." — Unknown
35. "Halloween is cool." — Marnie Piper, Halloweentown
36. "One, two, Freddy's coming for you. Three, four, better lock your door. Five, six, grab your crucifix. Seven, eight, gonna stay up late. Nine, ten, never sleep again." — A Nightmare on Elm Street
37. "This is Halloween. This is Halloween. Pumpkins scream in the dead of night." — The Nightmare Before Christmas
38. "The time's come to play here in my garden of magic." — Hocus Pocus
Check out the entire Gen Why series and other videos on Facebook and the Bustle app across Apple TV, Roku, and Amazon Fire TV.