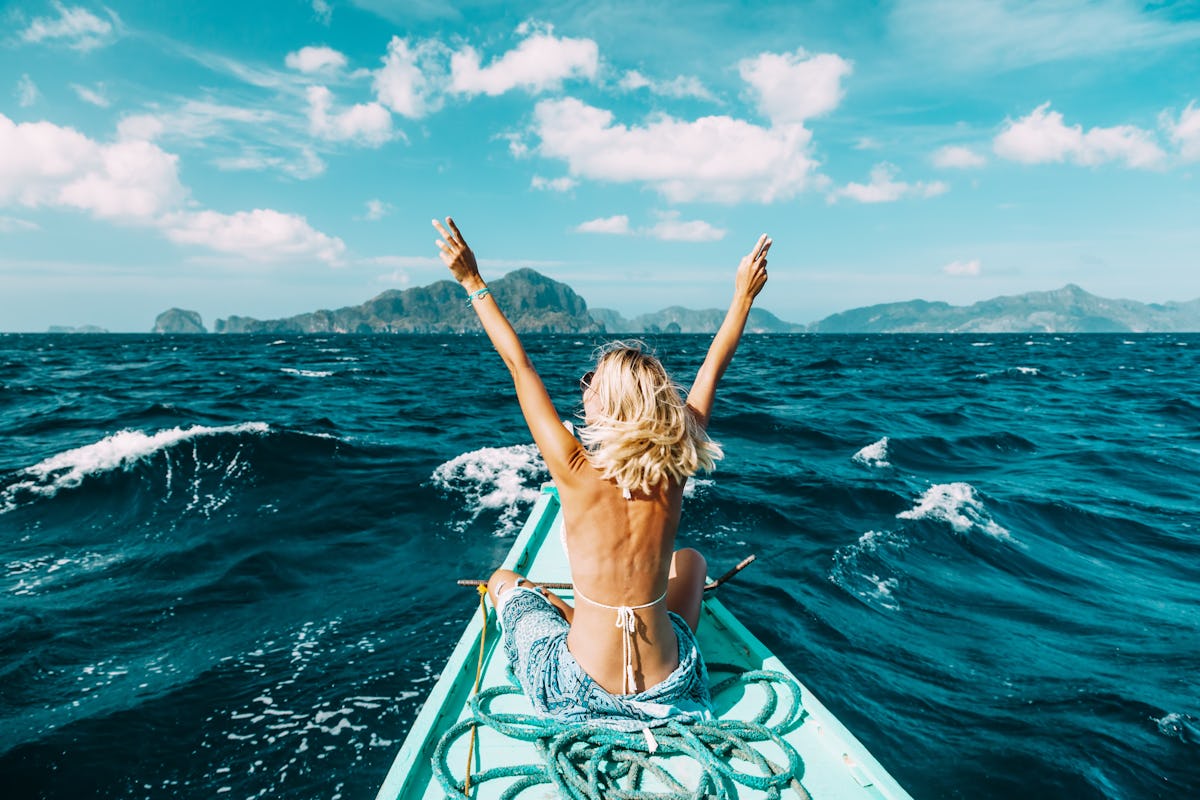 38 Clever Captions For Boat Pics, Because You're Hanging Onto Summer
Ocean vibes and good times.
Shutterstock
Hold on tight! Summer is always an amazing adventure that seems to fly by way too quickly. You're never quite ready to give up on the sunshine, lazy days chilling on the boat, and that bikini kind of life. Even when you start making plans for the fall, don't let any melancholy feelings of the seasons changing get the best of you. You can soak up the sweet moments — big and small — and pink sunsets on the horizon line, and use these clever boat picture captions for Instagram. They're perfect for someone like you who's hanging onto summer, no matter what season it actually is.
To your friends, you're like Ariel from The Little Mermaid — just maybe without the tail and seashell bra. You want to hang out with your humans and adventure to the bottom of the sea. It seems pretty rad down there, considering the fish sing and the crabs play the coral like a set of drums. You can imagine yourself chilling out in a bathing suit all day, and channeling your inner princess from your very own version of paradise, complete with ocean vibes and good times. In your spare time, you'd gossip about the seahorses or sneak a peak of the beach and all the people who are relaxing there. You'd probably spend some time decorating your room with aquatic pieces, too. (Oh, and has anyone seen my trident, or at least my fruity drink made from a TikTok recipe?)
You'd probably make a deal with Ursula and give up your voice for an endless summer. But for now, you and your crew will hang onto the beauty of summer 24/7. You'll take a boat out into the sea, or reminisce about your favorite beach memories. Even if you're simply relaxing on the boat with some cold ones and your best buds, you're having the best time ever. One of these clever captions for your boat pictures will be a must for when you're posting on social media.
1. "Whatever floats your boat."
2. "I like big boats and I cannot lie."
3. "Take time to coast."
4. "Good vibes happen on the tides."
5. "Keepin' it reel."
6. "Worry less, paddle more."
7. "Giving in to the pier pressure."
8. "My milkshake brings all the buoys to the yard."
9. "Things are going quite swell."
10. "This weekend was knot too bad."
11. "Let's sail away into forever."
12. "Some would say that I'm an aqua-holic."
13. "Staying hydrated by always being on the sea."
14. "Summer is never oh-fish-ially over."
15. "You can't be crabby when you're on a boat."
16. "Hooked on that summer feeling."
17. "Some grow roots, but I put down anchors far into the sea."
18. "Be an anchor in a world of waves."
19. "Thanks for making sure we don't sink."
20. "See the line where the sky meets the sea? It calls me. And no one knows, how far it goes." – "How Far I'll Go" from Moana
21. "You keep me from getting lost at sea."
22. "Forever in need of some vitamin sea."
23. "I love you a yacht."
24. "Let's just cruise and see where the waves go."
25. "Where there's a will, there's a wave."
26. "It's going to be a long time with no sea."
27. "You, me and the sea."
28. "Oh buoy, we're not ready for summer to be over, yet."
29. "Long weekends and living the boat life."
30. "Getting salty."
31. "Escaping all that ordinary that's back on shore."
32. "Life is better where it's wetter."
33. "Messy buns and boat days."
34. "Shopping is fun and all, but this is my favorite kind of sail."
35. "Back that raft up."
36. "Always take the sea-nic route."
37. "Kayaking away from all of my worries."
38. "Find your flow, and row, row, row."
Before you sail away into the ocean or down Memory Lane, please be sure to pick out at least one caption. You're bound to have a lack of service out in the middle of the sea, or get caught up telling old stories and not want to look for some clever ideas. But, when you come back to land (and let's be honest, reality), you'll want to be prepared. You'll want to have all the tools and captions to hang onto summer, no matter what season it may be and no matter when you'll be back on the boat again.
This article was originally published on