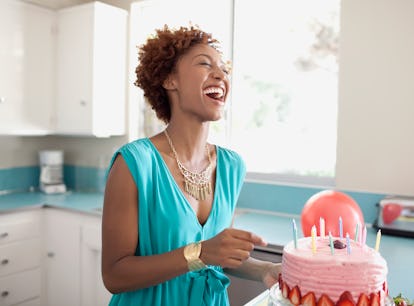 36 Clever Instagram Captions For Your Birthday That Seriously Take The Cake
"Turn my birthday into a lifestyle."
Today is your time to shine, and the spotlight is totally on you. Amidst all of the champagne poppin' (for those who are 21 and up) and partying the night away, the last thing you'll want to do is take time away from celebrating to think of a witty caption. You'll want to be able to upload a couple of great pictures and get back to having the time of your life. That's why having a solid game plan set in stone with clever Instagram captions for your birthday picked out beforehand is always a good idea.
Maybe this year, you're spending a chill night in with your SO or roommates and some wine, or maybe you're celebrating your birthday virtually with your long-distance best friends. Whatever the plans are for your day, you know there's a perfect caption to match it. So go on and celebrate, enjoy your confetti cake, and scream-shout your favorite song. It's your birthday, which means no one can stop you. These 36 captions will be here to document the adventures and laughs when it's all over.
1. "Go shawty, it's your birthday." — 50 Cent
2. "Birthdays are nature's way of telling you to eat more cake." — Jo Brand
3. "Life should not only be lived, it should be celebrated." — Osho
4. "Today is the oldest you've ever been and the youngest you'll ever be again." — Eleanor Roosevelt
5. "May the fork be with you."
6. "I'm happy to report that my inner child is still ageless." — James Broughton
7. "Age is merely the number of years the world has been enjoying you."
8. "We age not by years, but by stories." — Maza-Dohta
9. "Hugs, kisses, and a lot of birthday wishes."
10. "On this day, a queen was born."
11. "Age and glasses of wine should never be counted." — Italian Proverb
12. "Move over coffee, today is a day for champagne."
13. "Time to drink champagne and stand on tables."
14. "Gonna party like it's my birthday... cause it is."
15. "Growing old is mandatory, but growing up is optional." — Walt Disney
16. "I'm just a whole year more incredibler."
17. "Sassy since birth."
18. "Make it pop, like pink champagne." — Ariana Grande
19. "I'm not getting older. I'm getting better."
20. "Make a wish."
21. "Here's to another year closer to velcro shoes."
22. "Hey shawty, it's sher-bert day."
23. "It's my party and I'll cry if I want to." — Lesly Gore
24. "Old enough to know better but still young enough to get away with it."
25. "Turn my birthday into a lifestyle." — Drake
26. "You feta have a gouda birthday!"
27. "Thank you, Mom, for giving birth to me."
28. "Keep calm, because I'm the birthday queen."
29. "Have a birthday party, they said. It will be fun, they said."
30. "Happy birthday, dear self."
31. "I'm really too young to be feelin' this old." — Drake
32. "Thanks to filters, I always look one year younger."
33. "A simple celebration, a gathering of friends, here's wishing you great happiness and a joy that never ends."
34. "Who said getting old meant looking old?"
35. "Eating my cake and wearing it, too."
36. "Blessed to see another year."
This article was originally published on