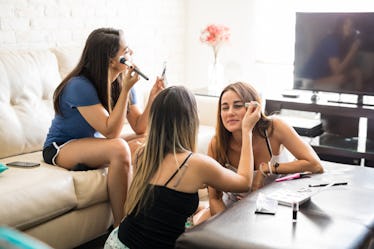 33 Instagram Captions For Getting Ready For Prom With Your Main Squeezes
Getting ready with your best girlfriends for prom is an unforgettable experience. As much as you'll love dancing the night away, you can't deny the feeling of slipping into your dream dress once your hair is curled and your makeup is done. The fun is all in the prep. Some of you might even decide to get ready at a friend's house before you hit the lawn to take pictures in the sunshine. It's time to stream your favorite songs, twirl around in your sparkly gowns, test out different lipstick shades, and document it all with prom captions for getting ready.
Just like the inevitable group shots you have planned with your friends, it's essential to capture the "before" pics when you're getting glammed up, too. You'll want to remember the day in its entirety — not just the dance itself — so be prepared to post pics of your crew getting ready, complete with the most perfect captions. You'll be too busy drawing your cat eye and applying some gloss to brainstorm a few of your own, so I've done all the hard work for you. Use any of these 33 prom quotes for your styling pics, and have the time of your life.
1. "Playing dress-up begins at age five and never truly ends." — Kate Spade
2. "Keep your heels, head, and standards high." — Coco Chanel
3. "Too glam to give a damn." — Unknown
4. "Live for the moments you can't put into words." — Kid Rock
5. "Ain't life grand?" — Bonnie and Clyde
6. "Everyone's a star and deserve the right to twinkle." — Marilyn Monroe
7. "Stay focused and extra sparkly." — Unknown
8. "Friends who slay together, stay together." — Unknown
9. "This night is sparkling, don't you let it go. I'm wonderstruck, blushing all the way home." — Taylor Swift, "Enchanted"
10. "I think it's beautiful the way you sparkle when you talk about the things you love." — Atticus
11. "There's no such thing as sparkling too much." — Unknown
12. "Leave a little sparkle wherever you go." — Unknown
13. "A picture is worth a thousand words, but the memories are priceless." — Unknown
14. "Cinderella never asked for a prince. She asked for a night off and a dress." — Kiera Cass
15. "Live. Love. Sparkle." — Unknown
16. "Choose to shine." — Unknown
17. "The prettiest eyes sparkle from the inside out." — Atticus
18. "Life won't sparkle unless you do." — Unknown
19. "Shine bright like a diamond." — Rihanna, "Diamonds"
20. "Sometimes you just have to throw on a crown and remind them who they're dealing with." — Marilyn Monroe
21. "Life is a party. Dress like it." — Lilly Pulitzer
22. "Shine like the whole universe is yours." — Rumi
23. "I only wear jewelry on days ending with a 'y'." — Unknown
24. "Nails without a little sparkle is like cake without frosting." — Unknown
25. "Keep calm and sparkle on." — Unknown
26. "I got that red lip, classic thing that you like." — Taylor Swift, "Style"
27. "Get your sparkle on, show this world where you belong." — Barbie
28. "Throw glitter in today's face." — Unknown
29. "Blingtastic: When an item of clothing or jewelry is as shiny as it is fantastic." — Unknown
30. "Unleash your inner sparkle." — Unknown
31. "You mustn't be afraid to sparkle a little brighter, darling." — Kirsten Kuehn
32. "Some girls are just born with glitter in their veins." — Paris Hilton
33. "Baby, you're a firework." — Katy Perry, "Firework"