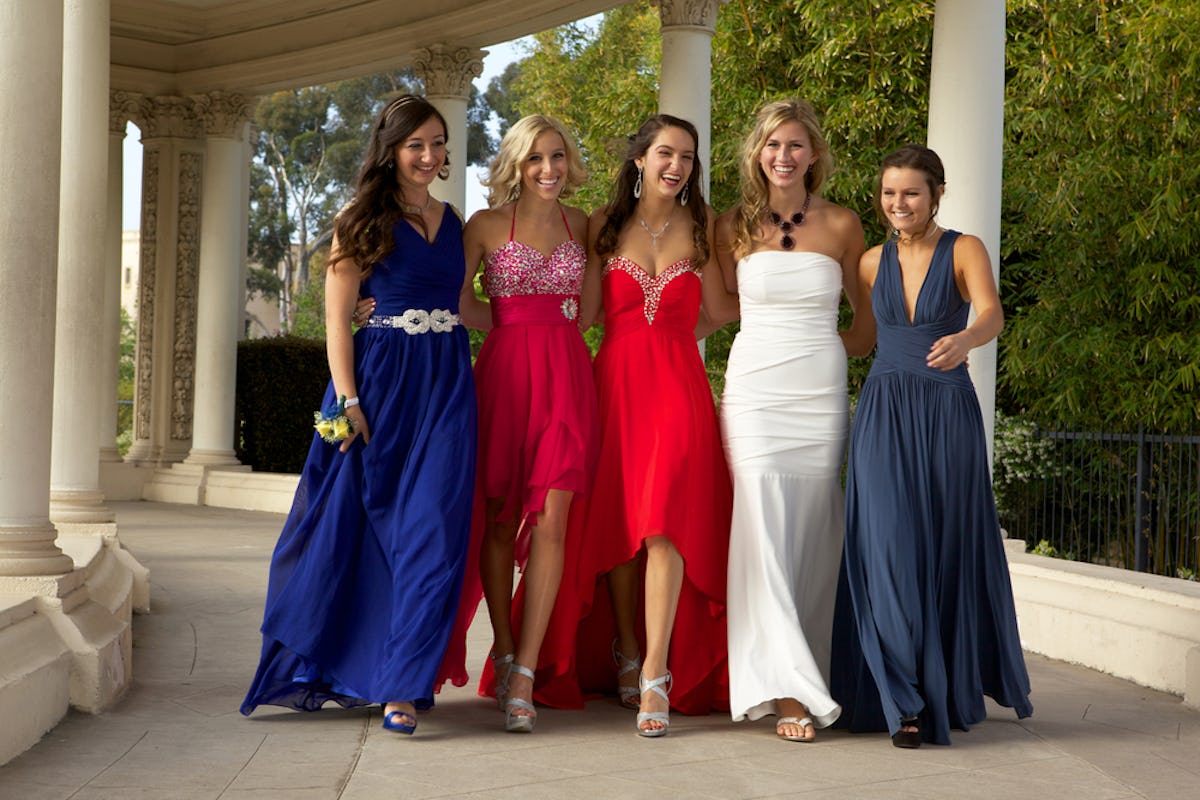 24 Prom Captions For Dancing The Night Away With Your High School BFFs
Your high school prom is a magical night. Before you roll your eyes and tell me you've heard it all before, let me just say, it's actually true — so don't take it for granted. As someone who still daydreams about the chocolate fountains, and would make up any excuse just to rock her gold prom dress once again, I know for a fact prom is such a special experience. After all, it's a night filled with dancing, being surrounded by your crew, and taking a ton of selfies in your glittery AF outfits. What more could you really want to wrap up the past four years of school? Now that I've got you convinced, let me give you a piece of advice: Live in the moment, and take lots of pictures. Of course, prepare some picture-perfect prom Instagram captions for when you want to post it up on the 'Gram later on.
You'll cherish these memories for a lifetime, but it will be a whole lot easier to look back on them when you have amazing pictures. Snap away when you're getting ready with your best girlfriends, and pose for a plandid on the dance floor. Don't let the partying stop by having to come up with your own captions. Instead, use any of these 24 prom quotes to go along with your pics. Your photos and these quotes will be a perfect pair, just like your corsage looks so on-point with your dress.
1. "A picture is worth a thousand words, but the memories are priceless." — Unknown
2. "I never liked that song until I danced to it with you." — Chelsea Stark
3. "Too glam to give a damn." — Unknown
4. "Never miss a chance to dance." — Unknown
5. "What feels like the end is often the beginning." — Unknown
6. "Everyone's a star and deserves the right to twinkle." — Marilyn Monroe
7. "Cinderella never asked for a prince. She asked for a night off and a dress." — Kiera Cass
8. "You never know how strong you are until you dance all night in heels." — Unknown
9. "Sometimes you will never know the true value of a moment until it becomes a memory." — Dr. Seuss
10. "I said, 'Oh my, what a marvelous tune.' It was the best night, never would forget how we moved." — Taylor Swift, "Starlight"
11. "To live will be an awfully big adventure." — Peter Pan
12. "Always wear your invisible crown." — Unknown
13. "Don't be afraid to sparkle a little brighter." — Unknown
14. "I wish some nights lasted forever." — Unknown
15. "Tonight, we are young. So, let's set the world on fire. We can burn brighter than the sun." — Fun., "We Are Young"
16. "Shine bright like a diamond." — Rihanna, "Diamonds"
17. "I often think that the night is more alive and more richly colored than the day." — Vincent van Gogh
18. "You can dance. You can jive. Having the time of your life. See that girl. Watch that scene. Digging the dancing queen." — ABBA, "Dancing Queen"
19. "Sometimes you just have to throw on a crown and remind them who they're dealing with." — Marilyn Monroe
20. "I never want to stop making memories with you." — Beverly Preston
21. "Someday, you'll be looking back on your life. At the memories, this is gonna be one of those nights." — Tim McGraw, "One Of Those Nights"
22. "The stars are out tonight." — Unknown
23. "She danced all night and all the way home." — Unknown
24. "Hand in hand, with fairy grace, will we sing and bless this place." — William Shakespeare