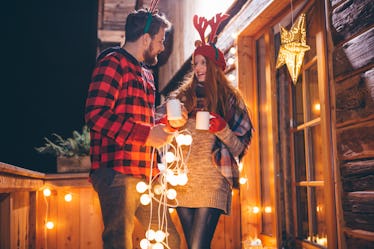 These Captions For Christmas Drinks Will Have You Toasting & Posting All Season
svetikd/E+/Getty Images
Spiked eggnog, hot chocolate, and lattes — oh my. It's the most magical time of the year, and there are so many ways to make the holiday cozy. Having a special Christmas drink or two on your Insta feed, for example, shows the world you're feelin' merry and bright. Before you sip, sip, hooray, take a few snaps and then use these Instagram captions for Christmas drinks to spread the cheer on your feed.
After all, mornings are best started with a specialty coffee. Why not froth your milk and add a touch of cinnamon for some holiday vibes in your home office? Break out that favorite Christmas mug, and don't forget to treat yourself to some cinnamon sticks, cute marshmallows, and candy canes for garnishing. Whether you whip up a gingerbread latte or a frozen peppermint hot chocolate, you're sure to be jingle bell rockin' your way through the week. Just be sure to take a picture so these merry moments last longer, and pair them with Instagram captions for Christmas drinks.
Don't stop at festive lattes and hot cocoas, either. When it's wine o'clock and work is done for the day, the holidays are the perfect time to whip up mulled wine, spiked apple cider, hot buttered rum, or a Christmas mimosa. Grab your housemates or set up a virtual cocktail party with your besties. 'Tis the season for toasting, but more importantly, to spice up your content with Christmas drinks and festive captions.
After you snap away, all you need to do is find the perfect caption to complete your post. Then, focus on having a jolly good time. Toast to all of the amazing memories you've made this year, and even better ones to come.
1. "Obligatory elfie with my Christmas mug."
2. "Toastin' and postin'."
3. "On cloud holiday wine."
4. "When life gives you eggnog, always add rum."
5. "Never met a gingerbread latte I didn't like."
6. "As festive as it gets."
7. "Living my best life, one sip of eggnog at a time."
8. "Red lips and wine sips."
9. "You were my cup of tea, but I drink hot toddys now."
10. "Drinking all the festive things."
11. "Way too eggcited for eggnog latte season."
12. "Press for Christmas mimosas."
13. "Sippin' white peppermint hot chocolate by the fire."
14. "Jingling my way to Christmas."
15. "Love holiday drinks a latte."
16. "Cheers to spiking the hot chocolate."
17. "Sip happens. Christmas drinks help."
18. "Keep calm and find another hot toddy to rock your world."
19. "Jingling from the couch to the espresso machine all season."
20. "I'm dreaming of a white Christmas, but I'll take a rosé one, too."
21. "I totally ship this combo."
22. "Irish cream in my coffee, please."
23. "Life is more fun with hot buttered rum."
24. "Garnish my martini with a candy cane."
25. "Today is most definitely a hot chocolate by the fireplace kind of a day."
26. "Christmas cocktails, ice, and everything nice"
27. "I'll drink to that."
28. "Merry little Christmas cocktails."
29. "I'd like red and white under my tree."
30. "Cranberry mimosas are the way to my holiday heart."
31. "Have yourself a very merry Christmas mojito."
32. "'Twas the night before cocktails."
This article was originally published on