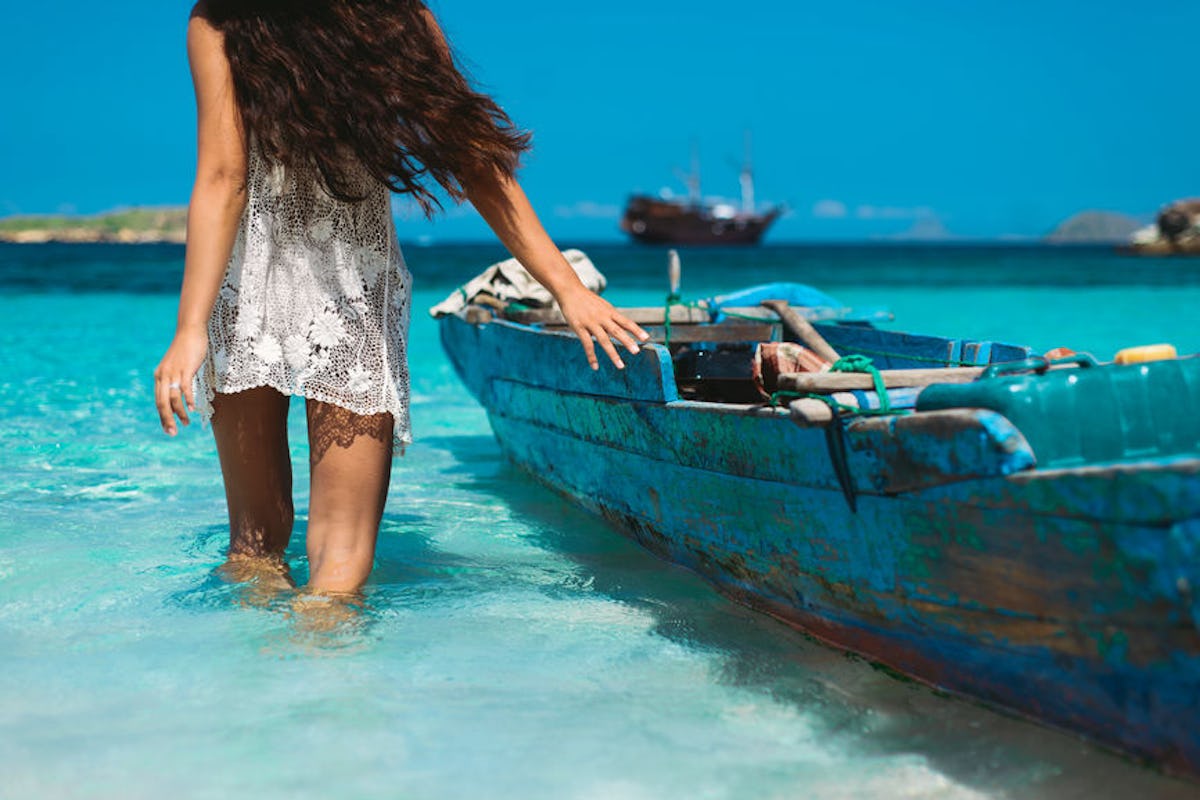 30 Nautical Quotes About Life That Make Coming Up With Beach Captions Smooth Sailing
There's nothing like the sea breeze, salty air, gentle waves, and sound of seagulls in the distance to really put you in the ultimate summer mood. Relaxing by the sea is the place to be, and out of all the summer activities to do this year, I'm in a nautical state of mind. I really love embarking on a cruise with my family, or going tubing with my friends. The ocean is carefree and full of endless sunshine, so you'll want to remember these nautical quotes about life when you're coming up with summer captions for the 'Gram. "Good vibes happen on the tides," after all.
Not only does the ocean provide us with a lot of fun activities, but it can also teach us great lessons about life. When going through these nautical quotes, you may find them to be incredibly inspiring. The others are plain old witty and punny. Go with whatever floats your boat, but you'll definitely want to keep these 30 nautical captions on hand at all times. They'll be like your helpful first mate this summer for when you want to post pics from your spontaneous beach trips, or even sailing along the Mediterranean coast with your crew. Either way, from here on out, it'll be smooth sailing for an epic summer you'll always remember.
1. "I am the master of my fate, I am the captain of my soul." — William Ernest Henley
2. "Sometimes in the winds of change, we find our true direction." — Unknown
3. "A rough day at sea is better than any day in the office." — Unknown
4. "A ship in harbor is safe, but that is not what ships are built for." — John A. Shedd
5. "A smooth sea never made a skilled sailor." — Franklin D. Roosevelt
6. "I love the peace the sea gives me as if I am made from the salt itself." — Unknown
7. "Let the sea set you free." — Unknown
8. "I refuse to sink." — Unknown
9. "Life's roughest storms prove the strength of our anchors." — Unknown
10. "Man cannot discover new oceans unless he has the courage to lose sight of the shore." — Andre Gide
11. "Life's a wave, catch it." — Unknown
12. "A sailor without a destination cannot hope for a favorable wind." — Leon Tec
13. "Home is where the anchor drops." — Unknown
14. "Life's at ease with an ocean breeze." — Unknown
15. "I need the sea, because it teaches me." — Pablo Neruda
16. "Seas the day." — Unknown
17. "She dreams of the ocean late at night, and longs for the wild salt air." — Unknown
18. "There are good ships and woods ships, ships that sail the sea, but the best ships are friendships, may they always be!" — Irish Proverb
19. "I'm the captain now." — Captain Phillips
20. "If the wind in my sail on the sea stays behind me..." — Moana
21. "Make it happen, captain." — Unknown
22. "Sailing takes me away to where I've always heard it could be." — Christopher Cross, "Sailing"
23. "Ship happens." — Unknown
24. "May your anchor be tight, your cork be loose, your rum be spiced, and your compass be true." — Unknown
25. "Work like a captain, play like a pirate." — Unknown
26. "You float my boat." — Unknown
27. "This is your life, grab it by the helm." — Unknown
28. "We cannot direct the wind, but we can adjust the sails." — Thomas S. Monson
29. "No matter how vast the sea, sometimes, two ships are destined to meet." — Unknown
30. "Let's get nauti." — Unknown