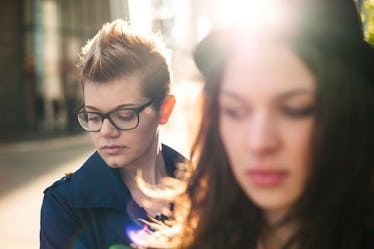 If You Struggle With Commitment, You're Probably One Of These 3 Zodiac Signs
For some folks, the fear of commitment is all too real. This can be true for a variety of reasons. Maybe they have been hurt in the past. Maybe they are just at a point in their lives where a relationship isn't realistic. Or maybe they were just born that way, literally — as in, they were born under one of the zodiac signs that struggle with commitment. If that's you, then you know exactly what I am talking about.
As a Virgo, I totally identify. I'm both picky and indecisive, so deciding to settle down is a long and hard process. I've always had friends who prefer to be coupled up, but that's never been me. I've always looked at them and wondered, somewhat enviously, how they can be so sure about who they're dating — and so easily satisfied in their partnerships. I have so much trouble finding someone that I actually like enough that I'm able to resist the urge to pick them apart.
But it's not just Virgos who feel the struggle to commit; there are a handful of signs for whom long-term relationships are less appealing. That's not to say any of the following signs can't settle down, just that it's a bit more of a challenge.