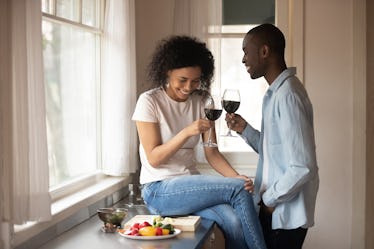 3 Zodiac Signs Who'll Make Sure You Have The Best V-Day Ever
Shutterstock
Though some couples see Feb. 14 as just another day, others may take it as a time to really pull out all the stops. Whether you plan a nostalgic scavenger hunt of all your favorite places or whisk your partner away for the night of their lives, Cupid's birthday can provide the perfect opportunity to take date night to the next level. And while anyone can coordinate a romantic night to remember, the three zodiac signs who plan the best Valentine's Day dates may just take the heart-shaped cake.
From treating your partner to a delicious meal to scoring tickets to something they've been dying to see, there are tons of ways to celebrate V-Day. Of course, while some partners may love to splurge for the holiday, planning a perfect date doesn't have to break the bank. Maybe you cook your partner a delicious homemade meal or write them a beautiful love letter filled with happy memories. Just as there's no one way to fall in love, there's no one way to celebrate Valentine's Day and the bliss of romance.
Still, if you're looking to plan the best date ever, you may want to take notes from these three signs.