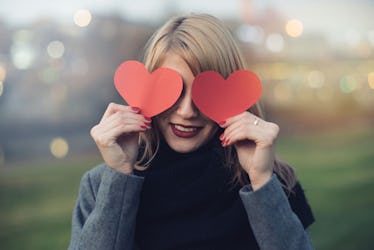 Here's Your SO's Ideal Valentine's Day Date Activity, Based On Their Zodiac Sign
Like it or not, Valentine's Day is almost upon us and if you're in a relationship, you're probably just starting to brainstorm a plan for the big day. Now, some people aren't particularly in love with this lovey-dovey holiday, but others take it very seriously. When deciding how to celebrate with your significant other, of course you could always just ask them how they want to spend the day, or you could consider making a plan for them based on their zodiac sign. Seriously! Your zodiac sign can impact everything from your personality traits to your likes and dislikes, so here are 12 Valentine's Day date ideas based on people's zodiac signs.
I personally love all things zodiac and usually read a horoscope or a zodiac sign analysis and think "This is so me." Zodiac signs can explain a lot about your personality, they can give you insight to compatibility between two people, and can also shed light on a person attitude towards a holiday like Valentine's Day. Certain signs are more skeptical and practical (I'm looking at you Capricorn and Sagittarius) while other signs are super romantic and feel all the feels (Hi, Libra and Taurus!) So when making your plans for this Valentine's Day take a look at your honey's horoscope zodiac sign to find some sweet inspiration!