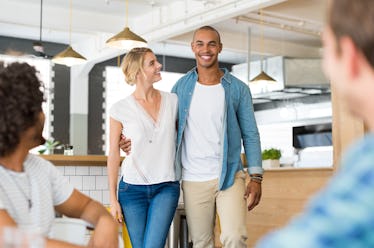 3 Zodiac Signs Who Love To Play Matchmaker, So Get Ready For Some Serious Shipping
Shutterstock
Call it whatever you want — matchmaking, being a wingman, filling in as the love doctor (OK, maybe not the last one) — but bringing people together can be super special. Although it's important to be considerate of everyone's privacy, when it comes to finding the right person, your friends may need a little push in the right direction. And if you live to bring couples together, chances are you may be one of the three zodiac signs who love to play matchmaker for their friends.
Maybe you've always set up your pals with cuties, or you've absolutely nailed the catchphrase from How I Met Your Mother, "Have you met [insert name]?" If so, you may already know the joy of helping other people with their love lives. When your bestie is a literal angel but gets a little nervous talking to strangers, or you're certain that your sister and your coworker would have an amazing time at dinner, making the first move for someone else can really get the ball rolling.
If you're always thinking about who your friends could be dating or you'd do anything to bring the people you love together, you may be one of these three zodiac signs.