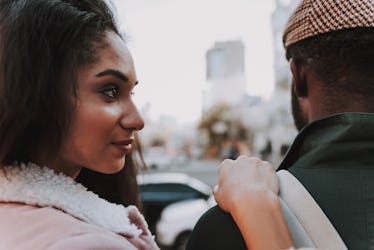 3 Zodiac Signs Who Hold Themselves Back From Falling In Love
Shutterstock
As country-pop icon Kacey Musgraves will tell you, falling in love can be a slow burn. Whether you need a while to develop feelings for someone or guard your heart like it's a new Birkin bag, sometimes it takes a while to really open up about your emotions. Of course, if you're a Virgo, Taurus, or Capricorn, aka the three zodiac signs who hold themselves back from falling in love, you're probably used to going slow and steady.
While movies and TV may depict people falling in love instantly, these three earth signs need to really take their time as they build their romantic relationships. Though they ultimately make for deeply caring partners, earth signs want to feel secure and comfortable with someone before giving away their hearts. Maybe you're a sweet Taurus who slowly fell in love with your best friend. Or perhaps you're a hardworking Virgo that didn't even realize how much you liked your boo until you spent some time part. Whatever the case, falling in love looks different for everyone, and there's no shame in taking your sweet time as you go along.
Here are the three zodiac signs that tend to take their time when falling in love.