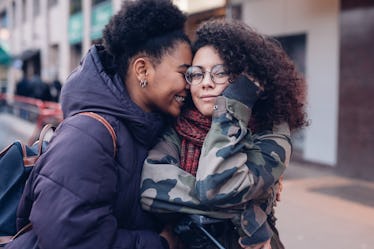 3 Zodiac Signs That Feel Weird About Labeling Their Relationships
Moms need a village because the work we're doing as parents is hard, and we need the emotional support to buoy us and remind us, especially in the hardest of times, that we have friends that can help us through. Shutterstock
You know those people who really thrive in ambiguous relationships? Even after months of seeing each other, they don't want to put a label on things. They say there's no need to add unnecessary pressure and that they're happy with the way the situationship stands. Some zodiac signs don't label their relationships because it just feels natural to them to leave things open-ended. And, depending on your personality, this may or may not stress you out.
There's nothing inherently wrong with avoiding the DTR conversation, so long as both people are on the same page. But sometimes, one partner wants to make things official, while the other would prefer not to define anything specific. Then, these mixed expectations lead to hurt feelings down the road. Rather than avoiding the "where is this going?" chat, go ahead and have it early on as you begin dating. If one partner doesn't want to label the relationship, they'll voice this opinion, and then you'll both have to decide how to move forward.
If you are seeing someone who doesn't want to label things, it might have a lot to do with their individual preferences — and, of course, their astrological chart. These three signs are perfectly happy keeping their relationships open-ended.