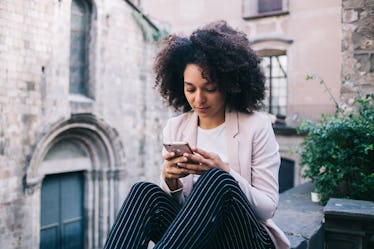 3 Zodiac Sign Pairings Most Likely To Keep Texting After Their Breakup
Shutterstock
If The Rules of Texting were an actual book, the chapter about staying in contact with an old flame would probably be a million pages long. Of course, if you and your old boo are one of the Zodiac sign pairings likely to keep texting after they break up, you may already be on the same digital page.
Though some couples need their space after calling it quits, others like to jump into A friendship right away. Whether you have a ton of mutual friends or your left things on amicable terms, sometimes staying in touch with your ex can make you both feel better about the breakup. Of course, every relationship is different, and no matter how long you were seeing someone, moving on from lost love can take time and patience. If you're not interested in staying in contact or you need to set some healthy boundaries about your post-breakup texting, it's always OK to be clear about your needs. Though your ex may be ready to be friends, you may need some more time to process.
Still, if you and your old boo were quick to jump back into texting, you may be one of these three zodiac pairings.