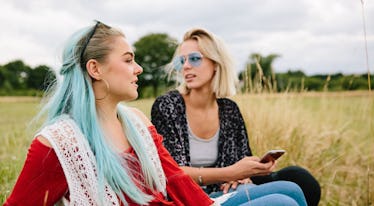 3 Subtle Signs Your Partner Is Considering Breaking Up With You, So Be Prepared
No matter how great a relationship is, there are going to be times when either you or your partner aren't completely satisfied. When the lines of communication are open, addressing the issues in a relationship can be surprisingly straightforward. However, when a couple is being less communicative, a sudden breakup can seemingly come out of nowhere. To avoid being completely blindsided, it's important to be able to recognize the signs your partner is considering breaking up with you. While confronting your partner about whether or not they are happy with your relationship can be really scary, avoiding that talk can cause things to fester and become a much bigger issue.
I spoke with Dr. Lesliebeth Wish, a licensed clinical psychotherapist, to get her take on the signs your partner could be contemplating a breakup. According to Dr. Wish, it's likely that the things you should look out for might not be all that subtle, so it's almost always a good idea to make sure you're not actively overlooking any weirdness.
"The signs that your partner might be considering breaking up are not necessarily subtle," Dr. Wish tells Elite Daily. "It's possible that your refusal to see that handwriting on the wall might cloud your vision,"