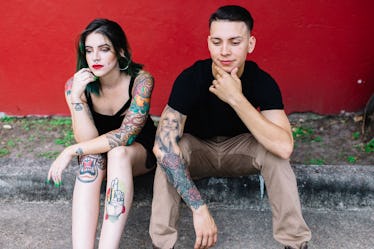 6 Signs A Breakup Will Actually Make You Happier In The Long Run, So It's OK To End It
Usually when you think of a breakup, it's a sad thing. It's all broken hearts, depressing music, and eating junk food. (OK, that last part is pretty awesome, but you know what I mean.) But just because a breakup is sad in the moment, that doesn't mean that it's a bad thing overall. In fact, there are some situations where ending a relationship will actually make you feel better faster, because the relationship is the problem. If you think that may be you, then it's time to start paying attention for the signs a breakup will actually make you happier. So, that way, you will know for sure what you've honestly known in your heart for while: It's time to officially call it quits with your current boo.
Making the call to end a relationship (especially one where your partner may have no idea that you're not happy) can be really hard, so anything that helps to clarify that decision is super helpful. It's going to mean having to be really honest with yourself about what you're feeling, which can be hard. But in the end your happiness and emotional well-being is worth it. So what are the signs it's time to get out? Here's what the experts say to look out for.