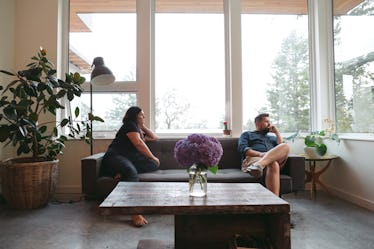 Couples' Therapists Reveals The 7 Times They Would Advise You To Break Up
Imagine being able to download an app that helps you identify signs you should break up with your partner. Hypothetically, it would work like WebMD but for relationships. You would plug in your relationship symptoms and the app would tell you if your relationship is dying or not. If it's anything like WebMD though, the results would probably indicate that your cancerous relationship is already dead, which is why I'm always quicker to trust an in-person, licensed professional.
In lieu of WebMD for relationships, I spoke with Dr. Gary Brown, a Los Angeles relationship expert who works with dating singles and couples, and Dr. Carolina Castaños, a clinical psychologist who specializes in marriage and family therapy, and the founder of MovingOn, a program designed to help heal broken hearts. They got real with me about when it's time to end your relationship.
Relationship dealbreakers will, of course, be different for everyone. But Dr. Brown's most urgent advice is that "everyone in a relationship is going to be unhappy at times, even in the best of relationships." So if you and your partner are guilty of one or more of these breakup indicators, you should have an honest discussion about whether you think you can work through your problems or if you'd prefer to move on. No relationship is perfect but sometimes, it's in both partners' best interests to walk away from an unhappy, unhealthy situation.