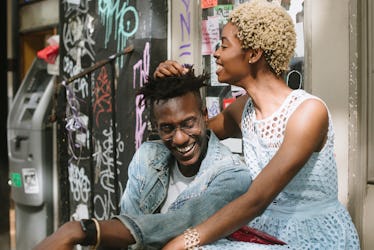 3 Signs You & Your Partner Are Ready To Share Money, According To Experts
No matter how long you've been dating someone, chances are you've probably already had some type of conversation about money. Even on your first date, the question of whether or not you split the bill probably came up. As a relationship gets more serious and you work toward a future together, money can become an even bigger conversation topic. Eventually, if you chose to settle into a life together long-term, you might consider joining bank accounts. So, knowing the signs you're ready to share money with your partner, straight from the experts, might be able to help you and your SO know if you're ready to take that leap.
Now, before any couple decides to share finances, one expert says that it's important to recognize how big of a deal it really is. "As a couple, sharing money comes long after sharing a toothbrush," online dating expert Julie Spira tells Elite Daily. "It's really a big deal, because it shows you're on the path to a deeper commitment, such as sharing the rest of your life together. Some couples offer to share credit card numbers to pay for tickets or plan vacations, but opening a joint checking account, or to formerly add someone to your credit card as a second cardholder is more serious than tossing $20 into a cookie jar each week. It shows you have trust in your partner and your overall relationship."
Here's what else the experts say you'll notice when you and your partner are ready to join bank accounts and share that cash flow.