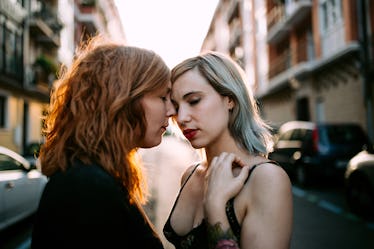 3 Signs You Don't Like The Person You're Dating Enough To Keep Seeing Them
It's easy to get excited about dating someone new, but sometimes, the rush associated with that feeling of newness really just isn't there. Maybe your new partner didn't meet your expectations, maybe you accidentally settled, or maybe you got caught up in the "idea" of someone who wasn't who they seemed. Ultimately, this could leave you feeling disappointed about the person you're dating and wondering what to do about it. The signs you're not that into who you're dating can range from totally obvious deal-breakers to the absence of more nuanced intricacies that can define deeply satisfying relationships. But, exactly how are you supposed to know for sure that there isn't a spark?
Knowing whether or not you feel strongly toward someone might sound simple enough, and in many ways it is — how you feel is how you feel. But it's also important to consider whether or not you really know this person well enough to decide if they're right for you, particularly if you two are a good match on paper. And let's face it, many of us are probably guilty of dating people who we aren't all that into for a ton of different (and perhaps slightly selfish) reasons. But if you find these three things to be true, then it could be time to make a beeline toward the nearest exit.