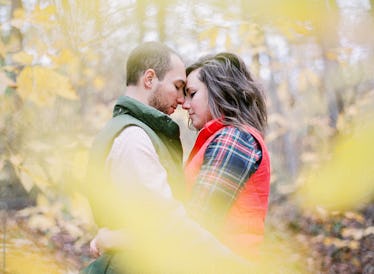 3 Signs Your High School Relationship May End Over Thanksgiving Break
So, you're one exam away from freedom, mom is busting out her famous stuffing recipe, and you're counting down the hours until you reunite with your high school besties over some cider. The only snag? You can't shake this sinking feeling that your high school relationship may end over Thanksgiving. Here's the thing: They don't call it turkey dump season for a reason. But if you're getting the sneaking suspicion that you and bae are headed for splitsville, you might find comfort in the fact that certain signs can help you figure out if your concerns are legit.
The turkey dump refers to the phenomenon that relationships (typically those that started in high school) tend to come to a screeching halt around Thanksgiving (typically in the first semester of college). And there are a number of reasons why Thanksgiving breakups are common. For one, college can be a stressful time, between making new friends, adjusting to campus life, and balancing studying with social gatherings — so you and your boo might need to take a step back and focus on yourselves, since sustaining a long-distance relationship takes a lot of hard work. Also, according to relationship and etiquette expert April Masini, Thanksgiving can also bring up some problems that you and bae had been avoiding.
"If family pressures work against your relationship because your parents and your partner don't get along, or because your family or your partner don't like each other, Thanksgiving can be the last straw," she tells Elite Daily. "And when there are differences that are deal breakers, family events may make these deal breakers more apparent, and second thoughts rush up."
If you suspect that your relationship may be ending over Thanksgiving, keep a lookout for these red flags.