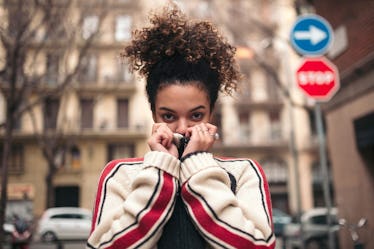 3 Dating Behaviors That Mean Someone's On The Rebound, So Be Careful
Rebounds can be complicated. On one hand, when you are the one who's just called it quits on a relationship, having a rebound can feel like an excellent idea. Apart from self-care, therapy, and reconnecting with friends, indulging in some casual dating fun can seem like a fabulous first step to getting over your ex. On the other hand, being someone else's rebound can make you feel less than jazzed about the dating process. If you're seeing someone, and you start to pick up on certain rebound dating behaviors, you may wonder: Why is this person really entertaining me? Do they actually like me, or am I just a distraction (or placeholder) for their ex?
When it comes to dating someone new who's just ended a relationship, life coach Pricilla Martinez previously told Elite Daily, "It's important to get information on how long it's been since their last relationship." If it's been anything less than a year, they're probably still processing how they feel about their ex. If, while asking some "getting to know you" questions, they admit they're fresh off a breakup, there's a chance they could be looking for a rebound.
"While this is important to get a sense of how much time they've had to recover, there is no real prescribed amount of time for how long it takes to get over a broken heart," Martinez said. With the length of time since their last breakup in mind, here are some more rebound dating behaviors to keep an eye out for as you feel out a new relationship — and what you can do about it all.