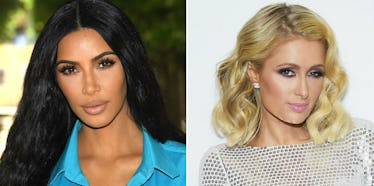 These 3 People That Kim K & Paris Hilton Have In Common Show Their Long Friendship
Pascal Le Segretain/Dimitrios Kambouris/Getty Images
Celebrity relationships and friendships are a rare breed. These famous faces have their lives played out in front of the masses, whether it's the good, the bad, or the straight-up shady. In Elite Daily's new series, It's Complicated, we're highlighting the biggest celebrity "feuds" that took over Hollywood and dominated our Sunday brunches for weeks on end. We'll take a deep dive into the lives and social media feeds of our favorite stars and dissect what happened in front of the camera, what went down behind the scenes, and everything you might have missed in between.
Kim Kardashian owes a lot to Paris Hilton. Being her assistant during the prime of Hilton's career in the early 2000s (I'm sorry, Paris, but we all know that was the peak) got Kardashian established in the Hollywood scene outside of her famous family name, and it even got her introduced to future husband Kanye West. The people Kim Kardashian and Paris Hilton have in common as a result of their years worth of experiences together is pretty extensive and the stories aren't all pretty, but the women are on good terms now after years of feuding. They're on such good terms, in fact, that Hilton confirmed Kardashian will be receiving an invitation to her wedding and Hilton was recruited for one of Kanye West's YEEZY ad campaigns.
The two have known each other since they were kids, so their lives have interconnected for a long time. It results in them having a lot of people in common. In an interview with Entertainment Tonight in 2015, Hilton dished on being childhood friends with Kardashian. "We've known each other since we were little girls," she said. "We've always been friends." That means we can go ahead and list their respective parents on the list of people each of them knows. In the same interview, Hilton talked about how it feels to have given Kardashian the job that was the jumping off point for her fame. (Kardashian was Hilton's assistant, in case you didn't know. But how didn't you know that...?) Hilton said, "It's nice to inspire people, so yeah, I'm really proud of her and what she's done though."
That brings us to the first non-family member these two have in common.
Nicole Richie
Kim Kardashian made cameos from time to time on Hilton and Richie's reality show, The Simple Life (which Hilton said in her 2015 Entertainment Tonight interview was "one of the first reality shows." Not entirely true, but we'll go with it.) You would often see Kardashian going through and organizing Hilton's closet on the show — a task she frequently had to take on when she worked for her. So, Kardashian had to have spent a lot of time with Richie as a result.
Through her friendship with Hilton, Kardashian also became friends with...
Lindsay Lohan
Kardashian, Lohan, and Hilton used to party together all the time before the Kardashian empire became what it is today. Neither Hilton nor Kardashian is friends with Lohan anymore (Hilton laughed and said, "If you don't have something nice to say, don't say anything at all" when asked if she'd be inviting Lohan to her wedding), but once upon a time, the group was inseparable.
It was through her time working for Paris Hilton and hanging with Lindsay Lohan that Kardashian met...
Kanye West
You've heard of him, right? Married to Kim K, father of her babies, all that jazz? He's at least a familiar name, right? Cool, cool, cool. Well, Kardashian met her future husband thanks to Hilton. While Hilton didn't straight-up introduce Kimye to each other, their social circles brought them together and we've already established that Kardashian and Hilton occupied the same social circle for a while.
Kardashian and West first met around 2002-2003, according to Kardashian herself. That was prime Kim/Paris friendship time. In an interview with Oprah Winfrey in 2012, Kardashian said she and West met 10 years before they started dating. She said,
We met maybe almost a decade ago, I've known him for a really long time, we've been friends for like six or seven years, so it's very comforting to have someone that knows everything about you that respects you, understands, has gone through similar things. I can really relate to his mother passing, he can really relate to my father passing. I mean, there's so many similarities in our life that I feel like I'm at a really happy, good space.
Kardashian also flushed out the details of how her and husband got together during the Keeping Up With The Kardashians 10-year anniversary special, which aired on Sunday, Sept. 24, 2017. "I met him I think in 2002 or 2003," she said. "He was recording a song with Brandy, and I was her friend." She continued,
I vividly remember hanging out with him and then they did a video together, so I'd see him a few times. He was asking his friends: 'Who is this Kim Kardajan?' He didn't know what my name was. Right before I got married to Kris Humphries, [Kanye and I] were talking, and I just went a different direction. I think I had to go through that to figure out what I wanted. After my breakup, I was feeling really low and down and he said, 'Just come to Paris and see my fashion show.' He jokes that he put on this whole fashion show just to get a date with me. So I went there and I stayed with him, and that's where we started dating. I swear from the moment I landed, I fell madly in love with him and I thought, 'Oh my God, why didn't I do this sooner?' Like, this is what real life is like — love and fun and real support.
While it doesn't feel possible that Kim and Kanye practically met each other in the '90s, it's true. And it's in part thanks to her good old pal Paris Hilton.