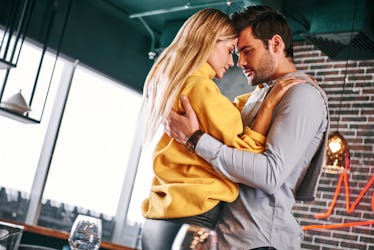 These 3 Myers-Briggs Pairings Have The Hottest Chemistry Hands Down
Shutterstock
Chemistry can be difficult to put into words, but when you feel it, there's no mistaking it. It's more than just compatibility on a practical level, like when someone checks all of your must-have boxes. Rather, it's an inexplicable feeling that you just "click" with someone — in conversation, in between the sheets, and just about everywhere else. FYI, your personality type can offer some super valuable information for finding these kinds of connections. And the Myers-Briggs pairings that have the hottest chemistry may surprise you.
Some say that birds of a feather flock together. Others say opposites attract. So, which is it? TBH, it's a little of both. The personality pairings that tend to have intense chemistry have at least one trait in common and at least one that differs. It makes sense when you think about it, too. Having some common ground is key (otherwise there could be constant conflict). But at the same time, contrasting qualities can produce a more well-rounded relationship, where each partner keeps the other in check.
Every Myers-Briggs personality has at least several types that they're compatible with dating-wise. But fair warning: when these four pairings fire up a romance, it's downright explosive.