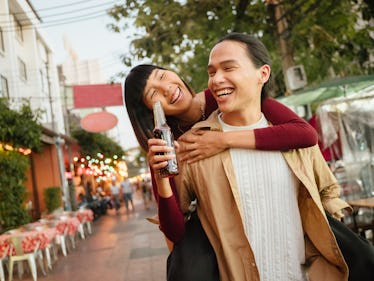 3 Zodiac Signs To Date If A Sense Of Humor Is Important To You
staticnak1983/E+/Getty Images
There's something seriously sexy about someone with a good sense of humor. Whether they can crack a joke at a moment's notice or always know the perfect, witty thing to say, it can be to deny the romantic pull of good comedic timing. No matter who you are, if a sense of humor is important to you in a potential partner, knowing the three funniest zodiac signs to date may help you laugh your way to love.
Though astrology can't determine everything, it can be interesting to consider how one's zodiac sign inspires their sense of humor. While some signs like to make quick jokes, others enjoy physical comedy or crafting long, drawn-out bits. No matter what you're into, really nailing down how to make someone laugh can be the best feeling ever. Reading a room, building off of another person's energy, and really coming through with a timely and accessible joke isn't easy, and being able to break the tension at any given time is a special gift.
If you're in the market for a comedic crush or tend to only like people that can make you roll on the floor laughing, here are the three zodiac signs that make the funniest partners.