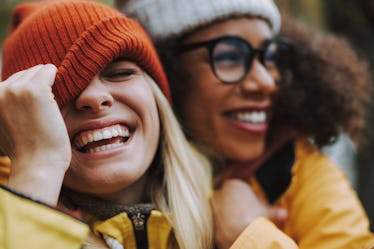 3 Personality Types To Date That Will Keep You LOLing All Day
Shutterstock
There's something magical that happens when you and your date both happen to laugh at the same thing — it's an instant spark And if you're looking for the funniest Myers-Briggs personality types to date, it's worth noting that those with an Intuitive or Perceiving preference have some serious skills for making people laugh. Why? Because the Intuitive trait means you look for the deeper meaning (and humor) in everyday things, and Perceivers tend to be less cautious and more open-minded.
It's important to note that sense of humor is a subjective thing, and what makes one person chuckle might not have the same effect on another. So, ultimately, it's all about finding someone who happens to share your same definition of what's hilarious. That said, certain types tend to have a consistently comedic perspective on things, and a knack for finding humor in almost any situation.
Laughter is not only a natural de-stressor that can ease the tension on a date, but it also serves as a phenomenal compatibility test, and a way to find common ground in how you view the world. And if you date one of following types, you can skip the core workout because these Myers-Briggs personalities will have you giggling 24/7.