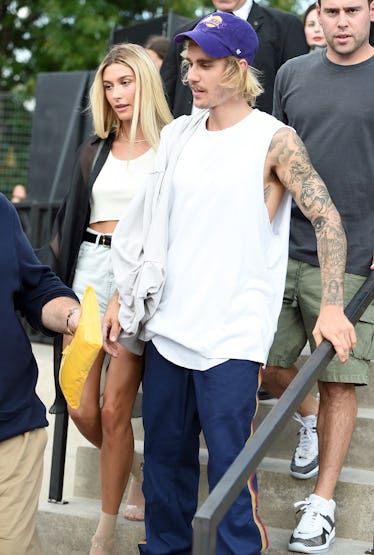 3 Celeb Couples To Dress Up As For Halloween With Your Partner If You're Super In Love
Theo Wargo/Getty Images Entertainment/Getty Images
I know, I know, there's nothing more basic than dressing up as a celebrity couple on Halloween. But so what? Almost every costume is basic. I mean, even Heidi Klum has been a witch, a vampire and Jessica freaking Rabbit, and she's, like, the queen of Halloween. Or HallowQueen, if you will. Anyway, it's always fun to add a current spin to your Oct. 31 lewk, and since everyone seems to be putting a (huge) ring on it lately, why not embrace the trend and go as a recently engaged celeb duo? So baller. Here are three celeb couple costumes for you and your boo (yup, I said it) to rock on Halloween this year.
1. Justin Bieber & Hailey Baldwin
OK, so we still don't know whether they have actually tied the knot already or not, but who could forget Justin Bieber and Hailey Baldwin's iconic engagement announcement pic on Bieber's Instagram feed.
"Hailey I am soooo in love with everything about you!" The Biebs wrote next to a black-and-white shot of Baldwin sitting on his lap in a leather jacket and tank and kissing the side of his face. "So committed to spending my life getting to know every single part of you. You are the love of my life Hailey Baldwin and I wouldn't want to spend it with anybody else."
Amazing, right? And their looks in the shot are totally easy to replicate for Halloween. The biggest purchase you'll need to make is Hailey's black leather jacket. And unless you wanna fork over a couple of hundos for it, I suggest looking for a faux version, like this one I found at Urban Outfitters:
Faux Leather Jacket, $99, Urban Outfitters
It's pretty good, right? You'll also need some kind of "cherry" tank or crop top to go underneath it. This tank from Forever 21 is a really close match to the one Baldwin's got on.
Cherry Embroidered Tank Top, $9.90, Forever 21
And while you can't really tell in the first image, swipe through to the second and you'll see that Baldwin is also giving off major Cher Horowitz vibes in a cute little plaid skirt, kinda like this one:
Plaid Knife Pleat Skirt, $17.90 Forever 21
As for Justin, well, it's all about the tats and facial hair, you know? So if your SO is lacking in that department, you'll have to go faux.
60's Moustache, $16, Amazon
Arm Sleeve, $18.99, Amazon
Then just throw on a plain white tee and top the whole thing off with a Fear of God hat if you're livin' large (they're $295!):
Fear Of God Embroidered Wool Cap, $295, Mode Sens
Or cop a similar-looking NY Yankees cap if you're not:
New York Yankees Authentic Collection, $34.99, New Era
2. Priyanka Chopra & Nick Jonas
Nick Jonas and Priyanka Chopra are definitely one of 2018's hottest couples. The pair got engaged in July, but were first spotted together when they walked the red carpet at the Met Gala in New York City in May 2017. Their looks that night were instantly iconic, and this was such a major moment for the couple that I think it would be the perfect choice to take out for a spin on Halloween.
So hot, right? Obviously, you'll need a killer trench coat to replicate the Quantico star's look. Finding one that drapes dramatically on the floor like hers is definitely a case for the FBI, but I am loving the sleek line of this shorter version from Lulu's:
Double-Breasted Trench Coat, $98 Lulu's
But if you really want to pull off Chopra's haute flasher "nothing underneath" look, this belted version from Amazon is pretty much an abbreviated dead ringer:
Blostirno Women's Notched Lapel Double Breasted Trench Coat with Belt, $37-$49, Amazon
To finish off the smokin' look, you'll need a really bomb pair of black platform boots, like these gorgeous babies from Nasty Gal:
Finish On A High Note Platform Boot, $35, Nasty Gal
As for Nick, I'm totally feeling this patterned tux jacket from King Formal Wear on Amazon:
King Formal Wear Men's Premium Patterned Tuxedo Jacket, $199.99, Amazon
Just swap out that gold bow tie for a black one, and then you'll be ready to take it to the rooftop.
3. Mike "The Situation" Sorrentino & Lauren Pesce
Mike and Lauren won over Jersey Shore: Family Vacation fans with their sweet on-air engagement. Plus, I am a huge fan of the way Big Daddy Sitch has turned his life around with his fiancée's help. I just totally ship these two, and think dressing up as them on Halloween would be so much fun.
Remember that time near the end of Jersey Shore: Family Vacation Season 2, when the MVP trio tricked the girls into heading home from Las Vegas a day early and then stayed to help Ronnie set up his house and have one last boys weekend? If I said the words "Thotchella" and "Bromittment" would that ring any bells? Oh yeah, I'm talking about that episode. And while there were lots of stellar moments — Vinnie and Pauly made their relationship official, you guys! — my fave part of the entire hour was when Mike strapped on Ronnie's daughter's Baby Bjorn and used it to stash his chips:
With apologies to Zach Galifianakis in The Hangover, I think this is the best use of a Bjorn that has ever been on screen. So yeah, this will be the Mike part of your costume. And all you need is... a Baby Bjorn and a bag of chips. How easy is that? Plus, if you get hungry, you got yourself a built-in snack.
Baby Carrier Original, $79.99, Baby Bjorn
As for Lauren, you really just need to flaunt your unwavering loyalty to The Sitch via a pair of black leggings and a "Fiancé" muscle tank.
I'm totally digging this one from Etsy:
Fiance Tank, $26, Etsy
Easy, peasy.
So there you go fam! These three looks should cover all the bases. So slide a ring pop on the fourth finger of your left hand and get ready to crush it.