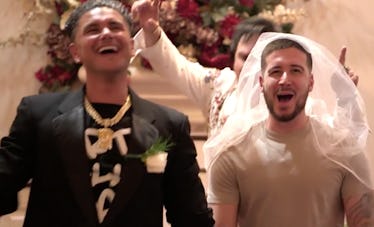 Pauly D & Vinny Exceeded All BFF Goals With Their 'Jersey Shore' "Brommitment' Ceremony
MTV
There really is only one true love story that ever came out of Jersey Shore, and no, I am obviously not talking about Ronnie and Sam. Throughout all of the drama among the show's cast, Pauly D and Vinny have always remained the closest of friends, and worked together to bring lightness and humor into the oftentimes bleak situations that the rest of the cast gets into. And on Thursday night's new episode of Jersey Shore Family Vacation, they took their relationship to the next level. Pauly and Vinny's "brommitment" ceremony on Jersey Shore Family Vacation was actually a very sweet celebration of Jersey Shore's longest lasting friendship.
Thursday night's new episode of Jersey Shore Family Vacation was all about the boys — Pauly D, Vinny, Ronnie, and Mike got in some serious bonding time after they tricked the girls into heading home from Las Vegas a day early. The boys' weekend farewell to Vegas included a ton of memorable activities, including buying some baby gear for Ronnie now that he is officially living alone, learning how to truly master the buffet with Mike, and ending with a group of twerking girls flooding the hotel room. But the best moment of the boys' weekend was Pauly D and Vinny's "brommitment" ceremony.
Since this is Las Vegas after all, Pauly D decided it was the perfect place to propose — or, bropose — to Vinny and set up a wedding ceremony at one of the city's late-night chapels. The guido grooms called it a brommitment ceremony, and it came complete with Pauly in a rented suit jacket, Vinny in a veil, and Mike employing a very strange technique in dispersing flower petals as the group-voted flower girl. Oh, and of course, an Elvis impersonator to make the brommitment truly unforgettable.
Although the whole thing was fun and silly, it actually became a surprisingly sweet moment once Vinny and Pauly D began exchanging their vows. The two spoke about how much their friendship has grown and stood the test of time, and viewers got an aww-inducing montage of all the cute moments that Vinny and Pauly D have shared together.
So now Vinny and Pauly D are officially in a brommitted relationship, although it does not seem to be changing their lives all that much. The guidos were able to immediately snap back to their less sweet sides when it was time for their last night out in Las Vegas. At the poolside club, Pauly and Vinny led the charge in turning their VIP area into what they dubbed "Thotchella," packing it with as many women as possible. And that continued back in the hotel room later that night, much to Mike's discomfort. Both Mike and Ronnie were left trying to avoid any contact with the women, given that Mike is engaged and Ronnie already experienced the hell of getting caught cheating on national television.
Thankfully, the last night seemed to go off without a hitch, and next week it will be time for the group to reunite where it all began: Seaside Heights, New Jersey. Catch Jersey Shore Family Vacation on Thursday nights on MTV.