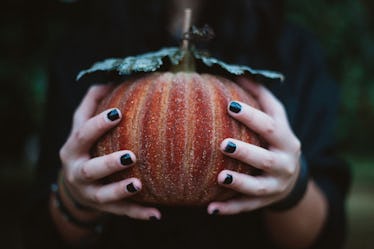 28 Insta Captions For Spook-tacular Halloween Nail Art
There's nothing more bootiful on Halloween night than the glow of the moonlight. Well, that and your nails. Some years, you've gone for something gold and sparkly to match the pumpkins on your front step. Other years, you've gone for a dark shade of green or black, to blend in with the night. Now, it's that time of the year again, and you're planning on going all out with your look. And you need some Instagram captions for Halloween nail art, because those cute little ghosts on your index fingers can't go unnoticed.
Like getting a new haircut, a fresh coat on your nails means that you have to post a picture. Otherwise, it didn't really happen. You need to keep your followers up-to-date on your latest look, and how you're getting involved in the festivities. Not to mention, their comments are always sweet and make you feel like a pro. That's why you need to throw your fingers up on the feed right now. Don't waste another second, because you never know when one is going to decide to chip.
All you have to do is pick out one of these #captions for nail art. Those cute little ghosts aren't going to wait around for eternity — they're not vampires, after all.
1. "Just my claws and some cobwebs."
2. "Talk to the ghosts on my nails."
3. "Good women can be wild too." — r.h. Sin
4. "All my flowers grew back as thorns." — Taylor Swift, "Call It What You Want"
5. "Always match your shoes to your horns, and your nails to your mood."
6. "You're never fully dressed without a good manicure." — Essie
7. "My costume might not be perfect, but my nails can be."
8. "I believe in manicures." — Audrey Hepburn
9. "My nails are on point, just like the devil's horns."
10. "Aren't these claws just spook-tacular?"
11. "The only thing dressing up this spooky season is my nails."
12. "Sorry, I was busy waiting for my spooky nails to dry."
13. "Pumpkin patches and pampering yourself."
14. "Your manicure's too sparkly. Said no one ever."
15. "Slip into something more colorful." — Essie
16. "When in doubt, wear red." — Bill Blass
17. "These nails put the boo in boo-tiful."
18. "The key to cute nails? Tell yourself you pump-can do it!"
19. "If you've got it, haunt it." — Rose Pressey
20. "Hocus pocus, Halloween nails, and chill."
21. "Break out the sweaters and the dark-colored nail polishes."
22. "Trick or treat yo' self."
23. "Leaf it to me to spend hours painting my nails."
24. "Well hello, October and my fall nails."
25. "Never met a pumpkin or a nail polish I didn't like."
26. "Playing dress-up begins at age five and never truly ends." — Kate Spade
27. "Don't be eye candy, be soul food."
28. "These claws are made for picking out candy bars."
This article was originally published on