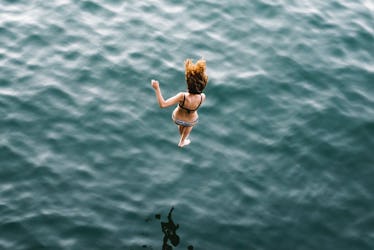 28 Clever Instagram Captions About Travel, Because You're Forever Catching Flights
Your next trip is right around the corner, so gear up! Before you know it, you'll be en route to your dream vacation spot with the girls. The countdown is officially on, and you're doing everything you can to prep to have the best time ever. You've already bought the perfect bikinis that'll glisten in the sun, along with super cute sandals and coverups. You've gone over your packing list, and you're most definitely checking it twice. There's so much to do, and so little time. Have you started thinking about potential Instagram captions yet? Your pictures deserve the best, and you've gotta be prepared to share some clever Instagram captions about travel that truly capture the essence of your trip.
Let's be honest: You've likely struggled with choosing the best photo to post on vacation — whether that may be a scenic shot of the sunset, or an artsy selfie at the beach. You can't post them all, so it's important to choose wisely. Your Instagram caption is equally important, and oftentimes it's more difficult to choose than a photo. Should it be witty? Should it be inspirational? Or should you forego a caption completely, and just opt for a couple of emojis?
Well, I'm here to help you out with this list of clever Instagram captions about travel to get you inspired for that upcoming trip.
1. "Blood type: coconut oil." — Unknown
2. "An adventure the day keeps the doctor away." — Unknown
3. "Sandy hair, kind of care." ― Unknown
4. "Catch you on the next flight." — Unknown
5. "Jet lag is for amateurs." ― Unknown
6. "Seas the day." ― Unknown
7. "Wish you were beer." ― Unknown
8. "Girls just wanna have some fun in the sun." ― Unknown
9. "You told me it was Chile in South America. But I don't Bolivia." — Unknown
10. "There is Norway I'm ever coming home.'" ― Unknown
11. "Life is beach, I'm just playin' in the sand." ― Lil Wayne, "Right Above It"
12. "Just China have a good time." — Unknown
13. "Eiffel in love in Paris." — Unknown
14. "Paris is always a good idea." — Audrey Hepburn
15. "Let's taco 'bout going to Mexico." — Unknown
16. "Not all girls are made of sugar and spice and everything nice. Some girls are made of adventure, fine beer, and no fear." — Unknown
17. "This is my resting beach face." — Unknown
18. "In travel mode. Do not disturb." — Unknown
19. "Head in the clouds." — Unknown
20. "Up, up, and away.'" ― Unknown
21. "It's rude to leave a vacation waiting." ― Unknown
22. "Let's buy a one way ticket and never return." — Unknown
23. "Buy the flight. Think later" — Unknown
24. "The glass is always half full when you're on vacation." — Unknown
25. "Not too shabby, [insert location]." —
26. "Wining and dining our way around the world." — Unknown
27. "Falling hard for [insert location]." — Unknown
28. "Can't help but wine about going home." — Unknown