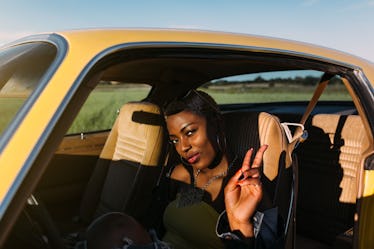 33 Travel Puns For Instagram, Because You Never Get Tide Down To One Place
With all the traveling you've been doing this summer, you have tons and tons of pics to share on the 'Gram. You might even be running out of storage space on your phone, and are tired of getting that message to clear it out. I've been slowing rolling out the best of the best, so my friends aren't overwhelmed with every awesome vacation pic all at once. However, that means I'm running out of captions for every pic I post. Sometimes, you just want something fun and witty, rather than an inspirational quote. That's why having a backlog of travel puns for Instagram on your phone is necessary.
Let's be real: Picking out the best pic for the 'Gram is easy. It's also super simple easy to choose the right filter and hashtags. The thing that stumps everyone is finding the right words for your caption. Sometimes, it even stops you from posting altogether, or sending your pics to sit in your drafts. No one wants that. The world needs to see your vacay pics, so don't let some words stop you from showing off your weekend getaways and beach days. When you're packing your suitcase for your next trip, make sure to bring along these 33 travel puns. Then, you'll be ready to jet set to tons of Insta likes that'll be coming your way.
1. "Nothing about this trip is plane."
2. "Tropic like it's hot."
3. "Keep palm and carry on."
4. "Sent with love."
5. "Having to unpack my suitcase after vacation is like the ultimate emotional baggage."
6. "There's Norway I want to go back home."
7. "Sea you real soon."
8. "Seas the day."
9. "Adios, beaches."
10. "Keep it plane and simple."
11. "Don't know where to go? Just wing it."
12. "Bun voyage."
13. "Having suite dreams."
14. "I got 99 problems, but a beach ain't one."
15. "You have the passport to my heart."
16. "Alpaca my bags for the next vacation."
17. "Heading to the beach, I'm traveling light."
18. "I'm Havana great time."
19. "When traveling, sometimes, Alaska local for directions."
20. "Juneau where we're going?"
21. "I'm free to Rome in Italy."
22. "Sea you later."
23. "Beach you to it."
24. "Shore, you don't want to come along?"
25. "Time flies when you're on a plane."
26. "Traveling is my Seoul mate."
27. "I need vitamin sea."
28. "I don't Bolivia how beautiful it is here."
29. "Keeping it reel on vacation."
30. "You float my boat."
31. "It's aboat time I went on vacation."
32. "Feeling fintastic."
33. "Don't get tide down in one place when there is so much to sea."
This article was originally published on