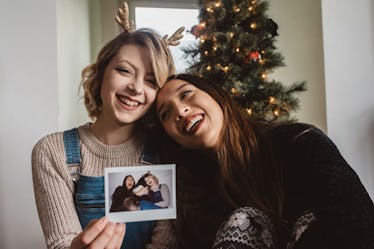 28 Clever Captions For Mistletoe Pics, Because You're Ready To Smooch Your Holi-Bae
Let me give you the latest scoop: Kisses aren't just for pretty snowflakes and evergreen trees this winter. Yes, those delicate drops from the sky love to land on the perfect branch, but it's time that you and your significant other steal the spotlight. It's time that you send your own blizzard into the atmosphere, and one that's made of kisses and holiday cheer. Together, you could make the whole world feel merry and bright. (I'm not even kidding, here!) All you need is each other, some mistletoe, and tons of clever captions for mistletoe pics. Smooching your holi-bae will be better than any present under the tree.
If I'm being honest, nothing shines as bright as your significant other during the holidays. They're the one person who truly makes this "the most wonderful time of the year" — in the words of the Andy Williams song. The two of you go ice skating in the park, and face the long lines at the stores. You escape to cozy cabins, go skiing on the weekends, and spend quality time with your families over big dinners. But, quite possibly your favorite part of sharing the snowiest season with someone you love is the snuggling.
You love the days of watching movies, wearing fuzzy socks, and bundling up in blankets on the couch. There are lights strung everywhere in the apartment, and a few trees that you decorated together sitting in the corner. Hot chocolate is warming, and you and your significant other throw marshmallows across the kitchen at each other. Somewhere in this movie-like scene there is mistletoe, and a bunch of smooches, too.
Naturally, you and your significant other will capture some of those moments on camera. You'll take a picture kissing in your sweaters, with fresh snow in the background, or intertwining your hands near the mistletoe. Let me do you lovebirds a favor and gather up some captions for the special memories. Full disclosure: These 28 captions are cheesy, clever, and completely ready for sharing those sweet kisses on social media.
1. "Meet me under the mistletoe."
2. "Candy cane wishes and mistletoe kisses."
3. "What happens under the mistletoe, stays under the mistletoe."
4. "Baby, it's cold outside." — Dean Martin, "Baby, It's Cold Outside"
5. "The snuggle is real under the mistletoe."
6. "All I want for Christmas is you." — Mariah Carey, "All I Want For Christmas Is You"
7. "Keep calm and kiss me under the mistletoe."
8. "Kissing you makes sweater weather much better."
9. "If kisses were snowflakes, I'd send you a blizzard."
10. "Let's escape to somewhere warmer, and kiss under the palm trees like they're mistletoe."
11. "Some people are worth melting for." — Olaf, Frozen
12. "We go together like winter, mistletoe, and a sweater."
13. "Mistletoe, sunshine, and good times."
14. "Kissing you is sweeter than a cup of hot chocolate."
15. "Merry everything and a happy always."
16. "Coffee, Christmas music, and cuddling up with you."
17. "You are summer to my winter heart." — Gemma Troy
18. "'Tis the season to stay cozy with the ones you love."
19. "Feeling holly and jolly whenever I'm with you."
20. "Believe in the magic of Christmastime and mistletoe."
21. "Has anyone seen my mistletoe?"
22. "Two is company. Trees a crowd."
23. "I love you to the mistletoe and back."
24. "Ice, ice, and my baby under the mistletoe."
25. "Happy holi-bae."
26. "There's snow place like under the mistletoe with you."
27. "Always assume we're up to snow good."
28. "Live, love, and be merry."
Aside from all the smooching, this is the time of the year that you and your significant other start reflecting on everything you've done together. You reminisce about your trips around the world, or the memories you made in the aisles of the grocery store.
To be honest, those little moments are when you knew this person was "The One." The simplest situations became merry and bright, because they were by your side — and now it's time to spread that love onto social media.
Hopefully, you found at least one caption that fits the #mood of your next post. You're more than ready for that mistletoe, a smooch with your holi-bae, and to hit the share button.