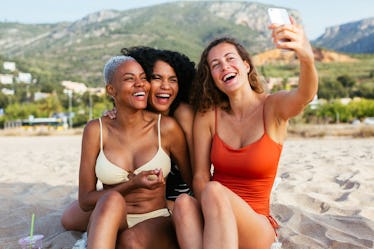 28 Beach Quotes & Sayings For Your High Tides & Good Vibes Pics
As far as I'm concerned, the three essentials for the perfect summer are: sun, surf, and sand. Lucky for us, all three are located right at the beach. That's why it's the go-to destination to achieve those "good times and tan lines" vibes on the summery days that lie ahead. The beach is a great escape for some much-needed fun in the sun with your girls, or just a solo trip to unwind with the sound of the waves crashing in the distance. There's so much to love about the shore that it can be difficult to find the right words to describe your feels, but beach quotes and sayings will get the job done.
When you're packing your beach bag, don't forget your camera to snap some great pics of the water and your toes in the sand. You'll also want to get a good #SquadGoals pic of your friends all piling on a floaty, or maybe a sun-kissed selfie after swimming in the ocean. Your salty beach waves deserve the best caption, so when you're ready to post a pic, your Insta game will be strong with any of these quotes. That way, you can get right back to seas-ing the day on your beach vacay.
1. "All I need is a little Vitamin Sea." — Unknown
2. "After a visit to the beach, it's hard to believe that we live in a material world." — Pam Shaw
3. "You, me, and the sea." — Unknown
4. "Sea more of the world, one beach at a time." — Unknown
5. "The tans will fade, but the memories will last forever." — Unknown
6. "Good times and tan lines." — Unknown
7. "Sunshine on my mind." — Unknown
8. "For her the ocean was more than a dream, it was a place she needed to visit to find herself. And when she returned to the city, you could see the sun in her eyes, the wind in her hair, and taste in the infinite salt on her lips." — Jose Chavez
9. "High tides and good vibes." — Unknown
10. "Happiness comes in waves." — Unknown
11. "Girls just wanna have sun." — Unknown
12. "Go where the WiFi is weak, and the rum is strong." — Unknown
13. "Ocean air, salty hair." — Unknown
14. "The ocean is everything I want to be. Beautiful, mysterious, wild, and free." — Unknown
15. "That crazy little sun of a beach." — Unknown
16. "Life's a beach, enjoy the waves." — Unknown
17. "Sea you soon." — Unknown
18. "Meet me where the sky touches the sea." — Jennifer Donnelly
19. "She was gracefully dancing in the waves. She finally understood how you could feel so detached from the world, yet be at one with it." — Unknown
20. "Dear ocean, thank you for making us feel tiny, humble, inspired, and salty all at once." — Unknown
21. "Let your waves crash down on me, and take me away." — Yellowcard, "Ocean Avenue"
22. "My soul is full of longing for the secret of the sea. And the heart of the great ocean. Sends a thrilling pulse through me." — Henry Wadsworth Longfellow
23. "Dreams are made of sun and sand." — Unknown
24. "Dance with the waves, move with the sea. Let the rhythm of the water set your soul free." — Christy Ann Martine
25. "By the beach, near the sea, what a wonderful place to be." — Unknown
26. "To go out with the setting sun on an empty beach is to truly embrace your solitude." — Jeanne Moreau
27. "At the beach, life is different. Time doesn't move hour to hour but mood to moment. We live by the currents, plan by the tides and follow the sun." — Sandy Gingras
28. "I could never stay long enough on the shore; the tang of the untainted, fresh, and free sea air was like a cool, quieting thought." — Helen Keller