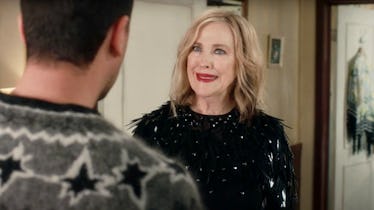 25 'Schitt's Creek' Quotes For Funny Mother's Day Captions From Mom's Fave Bébé
While every character on Schitt's Creek has their truly hilarious moments, it's Moira Rose who is laugh-out-loud funny every single time she's on the screen. She's an icon — just like your own mother. With Mother's Day on the horizon, it seems only fitting to shower your mama with love. One of the easiest ways to do that is on the 'Gram with some LOL-worthy snaps and Schitt's Creek quotes for funny Mother's Day captions.
It may have been you who turned your mom into a Schitt's Creek stan. Perhaps you've even watched a few episodes or marathoned all six seasons on Netflix together. That means your mom will understand when you use a Schitt's Creek quote to caption your Mother's Day dedication to her on social media. You can even pair your quote perfectly with the photos you've chosen.
Use Moira's line about David being "capricious" and "melodramatic" for some silly snaps of you and your mom on vacay. Or, use David's line about being raised in a barnyard for some throwback pics of your fam. All of these 25 Schitt's Creek quotes for Mother's Day are funny. You just need to find the one that shows off just how happy you are that you're her bébé.
"Sadly, and most of the time, we have no interest in what's going on with you." — Moira
"David, I cannot show you everything." — Moira
"David, what you did was impulsive, capricious, and melodramatic, but it was also wrong." — Moira
"David, I'm here!" — Moira
"Mom's gonna do that thing where she pretends that nothing's wrong and then just doesn't talk to me for five months, and I don't want that." — Alexis
"Well, that is not happening. And I am appalled that my baby girl has turned into a selfish, duplicitous whore." — Moira
"There is something that the government has allowed you to keep." — Lawyer
"Oh my God! I'm sorry for not responding to, like, one text, David!" — Alexis
"'You are the life you accept for yourself.' Those are Goldie's words. Or something someone said to her in India. Or perhaps she read it. In any case, it has always stayed with me." — Moira
"I don't care what kind of snarky comments you kids are going to make, we're all going to dance together as a family." — Johnny
"Yes, the question is: I am approachable..." — Moira
"I'd rather not attach my name to a gift that I had no hand in selecting." — David
"It's just like how Mom likes you more." — Alexis
"Didn't you once take the wrong baby home from preschool?" — David
"Alexis, don't be ridiculous! This is exactly the kind of paranoia that makes me wary of spending time with you." — Moira
"This is your recipe! You fold in the cheese then!" — David
"That's the stupidest thing I've ever heard. I'm telling Mom." — David
"My bébé girl, leaving me so soon." — Moira
"If there's one thing I've learned, when it comes to love, you can't let the little things get in your way." — Alexis
"Either way, great progress for bébé." — Moira
"What have I told you about putting your body on the internet? Never, never without proper lighting." — Moira
"Don't be a dew dropper. Put some concealer under those peepers, make like a swell, and go put on the ritz!" — Moira
"I was just hugging my kids." — Johnny
"You do realize the bébé is crying?" — Moira
"What kind of barnyard were you raised in, where you just eat someone else's food?" — David