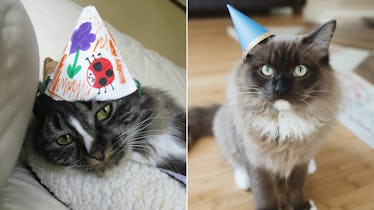 25 Instagram Captions For Your Cat's Birthday That Are Beyond Purrfect
There are two types of people in the world: people who really like cats and people who really aren't about them at all. There really is not an in between. However, if you do enjoy the fluffy goodness that comes along with cats — sassy attitude and all — then you know just how much they can consume your life. You will spoil them endlessly and give them everything their sweet little hearts desire. Treats? Heck yes. Scratching posts? Duh. Every little thing that'll make their birthday all the more special? Of course. And when you do have that tiny cat party, you need Instagram captions for your cat's birthday to show your followers that you have an important bestie in your life, and that's your kitty cat.
Felines are particular, as you surely know, but getting a mini cat cake, maybe some of that cat wine, and just having a mini bash is everything you need in order to give him or her a good time. Even though your cat deserves to be treated like royalty every day, make their birthday extra special. You can go super quirky and funny on your Insta, or you can get super sentimental, because they really are your best friend, and you love them so.
1. "Happy Purrrrfect Birthday to my favorite feline." — Unknown
2. "Age and glasses of wine should never be counted. [Same for all the glasses my cat has scooted off the table.]" — Take on an Italian Proverb
3. "A pawsome feline-friendly cake for a purrfect cat like you." — Unknown
4. "I love you meow and furever." — Unknown
5. "No kitten, it's your birthday?" — Unknown
6. "Are you feline older? 'Cause you don't look older than a kitten." — Unknown
7. "Let's get the pawdy started." — Unknown
8. "Cats know how to obtain food without labor, shelter without confinement, and love without penalties" — W.L. George
9. "The older we get, the more felines I have for you. Happy Birthday!" — Unknown
10. "In nine lifetimes, you'll never know as much about your cat as your cat knows about you." — Michel de Montaigne
11. "We gato plan this birthday party!" — Unknown
12. "I have studied many philosophers and many cats. The wisdom of cats is infinitely superior." — Hippolyte A. Taine
13. "Kitten my party on." — Unknown
14. "If a dog jumps in your lap, it is because he is fond of you; but if a cat does the same thing, it is because your lap is warmer." — Alfred North Whitehead
15. "When I'm with you, I'm feline great. Happy Birthday." — Unknown
16. "Cat parties without catnip is just clawful, I know." — Unknown
17. "Eat, sleep, purr and scratch – I truly envy a cat's life. Happy birthday lucky feline." — Unknown
18. "In ancient times cats were worshipped as gods; they have no forgotten this." — Terry Pratchett
19. ""After dark all cats are leopards." — Zuni Proverb
20. "Never try to out-stubborn a cat." — Robert A. Heinlein
21. "You've gato be kitten me right meow! You're how old?!?" — Unknown
22. "I would like to see anyone, prophet, king or God, convince a thousand cats to do the same thing at the same time." — Neil Gaiman
23. "Cat puns freak meowt. But happy birthday anyway." — Unknown
24. "If animals could speak, the dog would be a blundering outspoken fellow; but the cat would have the rare grace of never saying a word too much." — Mark Twain
25. "If cats could talk, they wouldn't." — Nan Porter