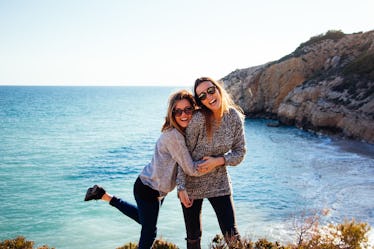 25 Captions For Your Montauk Beach Pics That'll Make Waves This Summer
If you're living your best life seas-ing the day this summer, you know that a beach getaway with your crew should be a top priority on your bucket list. Head to the shore for some sun, surf, sand, and ice cream. Although, I have to say, a long weekend beach trip is also perfect well into the fall, especially if you're super close to Montauk, New York. If you're from the city, you've probably been to the Montauk beaches and bars, or have some serious plans to visit soon. When you do reach the sand, you'll need some Instagram captions for Montauk beach pics.
Whether you're looking to do some shopping at cute boutiques, or relax on the beach with a refreshment in hand, Montauk has it all. It's a great destination to escape to when you're stuck in the city all week. Once your summer Fridays are in place, you and your friends can hit the road for an epic girls' weekend. While you're there, snap an artsy pic looking out at the ocean. You might even want to get a pic with the Montauk Lighthouse, and journey up to the top for a great panoramic shot. When you're ready to post your beachy pics to the 'Gram, use any of these 25 captions.
1. "Meet me in Montauk." — Eternal Sunshine Of The Spotless Mind
2. "As we got closer to Montauk, she seemed to grow younger, years of worry and work disappearing from her face. Her eyes turned the color of the sea." — Rick Riordan
3. "All I need is a little vitamin sea." — Unknown
4. "We dream in colors borrowed from the sea." — Unknown
5. "After a visit to the beach, it's hard to believe that we live in a material world." — Pam Shaw
6. "You, me, and the sea." — Unknown
7. "If you open your eyes very wide and look around you carefully, you will always see a lighthouse which will lead you to the right path. Just watch around you carefully." — Mehmet Murat ildan
8. "Sea more of the world, one beach at a time." — Unknown
9. "The tans will fade, but the memories will last forever." — Unknown
10. "Catch you on the next wave." — Unknown
11. "By the beach, near the sea, what a wonderful place to be." — Unknown
12. "At the beach, life is different. Time doesn't move hour to hour but mood to moment. We live by the currents, plan by the tides and follow the sun." — Sandy Gingras
13. "Meet me where the sky touches the sea." — Jennifer Donnelly
14. "Life's a beach, enjoy the waves." — Unknown
15. "The ocean is everything I want to be. Beautiful, mysterious, wild, and free." — Unknown
16. "For her the ocean was more than a dream, it was a place she needed to visit to find herself. And when she returned to the city, you could see the sun in her eyes, the wind in her hair, and taste in the infinite salt on her lips." — Jose Chavez
17. "High tides and good vibes." — Unknown
18. "Girls just wanna have sun." — Unknown
19. "Sunshine on my mind." — Unknown
20. "Live in the sunshine, swim the sea, drink in the wild air." — Ralph Waldo Emerson
21. "Seas the day." — Unknown
22. "Living on salt time." — Unknown
23. "Ocean air, salty hair." — Unknown
24. "Sandy toes, sun-kissed nose." — Unknown
25. "I love you to the beach and back." — Unknown