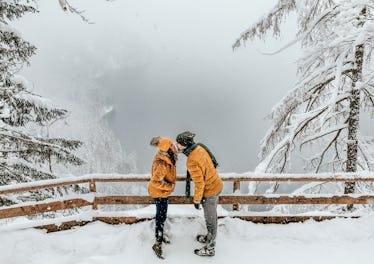 These Hiking Captions For Couples Will Have You Crushing On The Great Outdoors
Marko Klaric / EyeEm/EyeEm/Getty Images
Candlelit dinners and walks on the beach are amazing, but there's nothing more romantic than checking out the views with bae while on a rejuvenating hike. Taking on challenging trails with your SO and soaking up beautiful scenery is a perfect time to snap pics that you can post right away on the 'gram with hiking captions for couples.
Getting some good exercise and fresh air is a great reason to go on a hike with bae. But, let's be honest: You're looking forward to capturing some new content for the 'gram. Before you head out for the trails, though, be aware of the current safety guidelines set forth by the Centers for Disease Control and Prevention (CDC). According to the CDC, visiting a local park that's not crowded is a safe way to stay active amid the ongoing coronavirus pandemic. Of course, it's necessary to socially distance yourself from other hikers, and be sure to wear a mask. But, think of it this way: When it's just you, your partner, and the beauty of the great outdoors, you can have quite a romantic experience and can document it on your feed with just the right hiking captions.
While you're strolling along the path, snap a cute pic as you walk ahead of your partner, reach back, and hold hands. Or, set up a self-timer from a low angle to get a shot of you and your partner standing in front of the tall evergreen trees. You could even capture a cute #OOTD selfie to show off your flannels and matching baseball caps. When you finally do make it to the top of your hike, use your self-timer to snap a photo while standing hand-in-hand. Then, grab any of these 25 quotes about hiking to caption your outdoorsy pics and remember your beautiful day forever.
1. "The best view comes after the hardest climb."
2. "There's no one I'd rather walk the trails with than you."
3. "Don't ever leaf me."
4. "It doesn't matter where you are going, it's who you have beside you."
5. "Our great adventure."
6. "We felt outdoorsy and snapped a selfie."
7. "I'd climb a mountain with you."
8. "Meet ya at the top."
9. "We climbed and took pics."
10. "Together is my favorite place to be."
11. "Ain't no mountain high enough, ain't no valley low enough, ain't no river wide enough, to keep me from getting to you babe." — Marvin Gaye & Tammi Terrell, "Ain't No Mountain High Enough"
12. "Cheesin' in flannel."
13. "On top of the world with this one."
14. "May the forest be with us."
15. "We like to wander where the WiFi is weak."
16. "Hike yeah."
17. "Nothing is better than this moment with you."
18. "I know there's nature all around, but I can't keep my eyes off of you."
19. "I believe in the magic of watching a sunset with a loved one."
20. "Instead of Netflix and chill, we watch sunsets on a hill."
21. "After this, we're making hot cocoa."
22. "Be-leaf me, you are awesome."
23. "On a tree-mendous hike with you."
24. "It's a long way to the top, but we have each other."
25. "Sorry for the sappy couple pic."
This article was originally published on