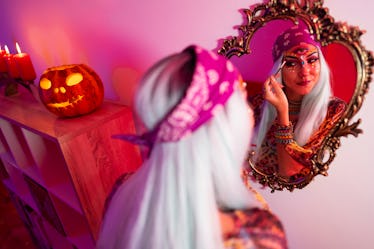 25 Cute Halloween Quotes That Will Put A Spell On Your Instagram Feed
Sorry to all of the other holidays out there: I'm not afraid to admit that Halloween is my favorite. I love the excuse to dress up in anything I want, and party the weekend away with friends. If you're in the same boat, you may have the most awesome costume picked out for Oct. 31, and can't wait to debut it on your Instagram feed. You already did a couple of fashion shows in it at home, because you're just that excited. That's why when the big day finally rolls around, you'll want some cute Halloween quotes for Instagram captions.
You like to keep it cute, because to you, Halloween is all about looking boo-tiful and having fun. Maybe you have multiple costumes planned out for the weekend before Halloween. You and your friends may even be planning a group costume, which obviously deserves a #SquadGhouls pic. Perhaps you and bae have something clever up your sleeves to show off at a costume contest. You might even have an adorable twinning look with your fur baby set to slay.
No matter how many outfit changes you have planned this year, you can't wait to show them all off. So, since every Halloween costume requires a spooktacular selfie for the 'Gram, you'll want to keep these 25 cute Halloween quotes around so you can post with ease:
1. "Trick or treat, bags of sweets, ghosts are walking down the street."
2. "You've heard of the fury of a woman scorned, haven't you? Well, that's nothing compared to the fury of a woman who has been cheated out of tricks-or-treats." — Linus, It's the Great Pumpkin, Charlie Brown
3. "On Halloween you get to become anything that you want to be." — Ava Dellaira, Love Letters to the Dead
4. "Just because I cannot see it, doesn't mean I can't believe it." — Jack Skellington, The Nightmare Before Christmas
5. "I put a spell on you, because you're mine." — Screamin' Jay Hawkins, "I Put A Spell On You"
6. "Halloween is cool." — Marnie, Halloweentown
7. "There is a child in every one of us who is still a trick-or-treater looking for a brightly-lit front porch." — Robert Brault
8. "There is magic in the night when pumpkins glow by moonlight."
9. "This witch can be bribed with chocolate."
10. "When black cat's prowl and pumpkins gleam, m ay luck be yours on Halloween."
11. "Hello, gourdgeous!"
12. "Trick or treat yourself."
13. "You say 'witch' like it's a bad thing."
14. "There are three things I've learned never to discuss with people: religion, politics, and the Great Pumpkin." — Linus, It's the Great Pumpkin, Charlie Brown
15. "Demons are a ghoul's best friend."
16. "Halloween is huge in my house and we really get into the 'spirits' of things." — Dee Snider
17. "Just creeping it real this Halloween."
18. "If one door closes, and another one opens, your house is probably haunted."
19. "A candy a day keeps the monsters away."
20. "The only thing getting lit this Halloween are my fall-scented candles."
21. "Where my best ghouls at?"
22. "Ghoul, you look boo-tiful."
23. "If you can't fly with the big girls, stay off the broom."
24. "Witch better have my candy."
25. "Too cute to spook."
This article was originally published on