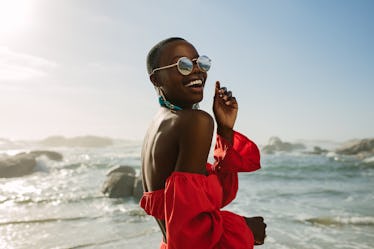 25 Bittersweet Captions For End Of Summer Pics & Waving Goodbye To The SEAson
Shutterstock
As sad as you are to see another summer nearing its end, it's likely inspired you to make the most of the remaining beach days in August. No more delays on those pool hangouts, barbecues, and scenic drives with your roomies. Make sure you have some clever Instagram captions for end of summer pics ready to go so you're making each day count. You've got a few things left on your to-do list, and the time is now to start crossing them off.
If you haven't taken the time to plan a backyard photoshoot in your new swimsuits for the season, now is your chance. Have your bestie snap away while you lounge in your inflatable pool or twirl around with a funky umbrella in the sprinkler. Try out the summer cocktail recipes that you have saved on Instagram and Pinterest, too. Have a nostalgic outdoor movie night with the fam while enjoying a fun popcorn recipe and getting cozy with your favorite blankets and pillows. Wrap up that last book on your reading list while soaking in the bathtub with a summery bath bomb. And, of course, revamp date night with your SO by going to a drive-in movie theater or enjoying a backyard BBQ for two.
The possibilities are endless. Though, while you're trying to do all that you can, don't overwhelm yourself. Just plan at least one or two fun things to do per day, and be sure to take as many pictures as you go. That way, you can do one big photo-dump at the end of summer with all your fave snaps. This is your chance to wave goodbye to the season while showing off your favorite memories. Since you don't want to waste any of the time you do have left, simply use any of these 25 end of summer quotes to caption your pics with ease.
1. "I dream of a never-ending summer. Quick, someone make my dreams come true."
2. "Summer is over. Time to officially remember what day of the week it is."
3. "August slipped away like a bottle of wine." — Taylor Swift, "august"
4. "You know it was a good summer when you're extra sad it's ending."
5. "August is like the Sunday of summer."
6. "It shore was a good summer."
7. "See you later, alligator."
8. "Felt cute. Might just keep pretending it's summer until it's actually summer again."
9. "This is not a goodbye, but a sea you real soon."
10. "It was all a dream."
11. "Until next time, summer."
12. "Getting my Pumpkin Spice Lattes iced until further notice."
13. "All I'm going to say is it sure is rude of you, summer, to leave me like this."
14. "Salty about this ending."
15. "You really put the 'good' in 'goodbye.'"
16. "I guess not all goodbyes are sad. Ex: Goodbye, Monday."
17. "Goodbyes are not forever. Goodbyes are not the end. They simply mean I'll miss you until we meet again."
18. "Never say goodbye because goodbye means going away and going away means forgetting. — Peter Pan
19. "Keep calm and pretend you are at the beach."
20. "This summer was mermaid to last."
21. "Can you do me a favor and just stay forever?"
22. "Fall, read the room. We're not ready for you yet."
23. "Summer, you are my favorite hello and my hardest goodbye."
24. "Goodbye to you. Goodbye to everything that I knew. You were the one I loved. The one thing that I tried to hold onto." — Michelle Branch, "Goodbye To You"
25."Let us shell-abrate all the good times and tan lines."
This article was originally published on